Only the Best for the Best… with our advanced blade technology and ergonomic designs your customers and employees will SEE and FEEL the difference . Our superior product quality assures long life performance making the DME cutter the ultimate in value
Selecting the Correct Gate Cutter for Your Application:
To ensure a quality finished product, it is important to choose the proper gate cutter. Consider the following when selecting a cutter:
Contour of the back of the blade
Blade length
Blade opening
Handle length
The blade characteristics should match the part at the area of de-gating.
Why Cutters Matter
Gate cutters are essential hand tools for injection molders for trimming molded parts free from the gate.
A clean and aesthetically pleasing plastic part relies on a cutter that can provide and consistent and precise cut flush to the molded part and cut cleanly in order to remove the part without damage.
This performance  cut must be achieved for every part and over a long period of time.
Because every cut requires the skill and dedication of the operator, the feel and ease of the cut is critical. Right or left handed, the cutter needs to be comfortable and easy for the operator to use for an extended amount of time. All of our cutters offer precision cutting and a user-friendly design.  Our handle are ergonomically shaped to fit most hand sizes.  The grips are made from a  durable, non-slip material. A  built-in high quality return spring brings the tool back to the open position again assisting the cutting process.
Design
Our products have been in the hands of our customers for decades and we have relied on their feedback to continually update and advance our products so that today we  offer the best possible available on the market
Steel Quality Matters
The first step in the manufacture of a high performance starts with the selection of the steel material. Our premium gate cutters such as our Power-Up line are made using Chrome-Vanadium steel with a unique chemical composition. This steel, only available in Japan is capable of producing a highly engineering  product. This  is the same steel type that are used in advanced culinary and medical cutters where precision and long life performance are the two critical factors
Precise and Consistent  Manufacture
Uniquely crafted and tested through over 50 critical production processes to ensure precise and consistent engineered properties
The standard of workmanship and materials ensures a longer lifetime performance and delivers a cut that is like no other
Quality You Can Trust
Every cutter is individually inspected and tested to ensure reliable performance in use
The result of the process is a product with extreme long lasting sharpness that cut easily through the most demanding materials. Your employees will thank you for this quality tool.
Making the Cut – Compare Cutters
Selecting the right tool for the right job is critical regardless of the industry. Tools like cutters are especially important as they impact the quality of a product and impact the user on a functional level. DME carries cutters that get the job done, exceed the need and cutters that are superior in ergonomic design. Whether you're only using this tool every few days or eery few minutes will determine your needs. Check out our needs comaprison chart below.
Good Cutters
5 Sizes to Fit Your Needs
Flat Face & Nippers Available
Hardened Steel for Long Life
Economical
Better Cutters
Japanese High Carbon Steel Outlasts the Competition
Precision-ground edge for Easy Clean Cuts
7 Different Blade Shapes to Fit Your Application
10 Different Lengths of Gate Cutters
Ergonomic Design
Best Cutters
Includes All Benefits of "Better" Cutter
Designed Specifically for Cutting Dense Sprues
50% Reduction in Required Hand Force Compared to Conventional Cutters
Flat Face
For general purpose cutting where the sprue is fully accessible or proud of the cutting surface.
Nipper Type (slightly rounded)
For sprue cutting where access to the sprue may be slightly recessed.
Angle Heads
For recessed sprue cutting and access to internal cavities.
Convex/Concave
For special applications where the sprue is recessed.
Blade Stop
When cutting hard or brittle material it is recommended to use a cutter with a blade stop. Adjusting the stop so the blades stop short of hitting each other will extend the life of the blades.
Handles
How much pressure an operator must exert when cutting a sprue or gate is determined by the length of the cutter handle. A handle that is too long for the operator's hand is difficult to grip while a handle that is too short causes excessive strain. Match the cutter with the operator's hand and the sprue being cut. Ergonomic handles are an effective way to reduce operator fatigue and decrease the risk of carpal tunnel syndrome. Have a left handed operator? We have left handed gate cutters
Quality Cuts: Power-Up Gate Cutters
The Power-up Cutters are designed specifically for cutting heavy duty large sprues with reduced hand pressure.
The unique design and forging positions the hinge pivot point off-center to create a cam action which increases blade cutting pressure.
Simple mechanical leverage principle reduces the required hand force by up to 50% compared to conventional cutters. The new design of these cutters are ideal for repeat cutting of large, heavy sprues and particularly tough applications such as glass-filled resins.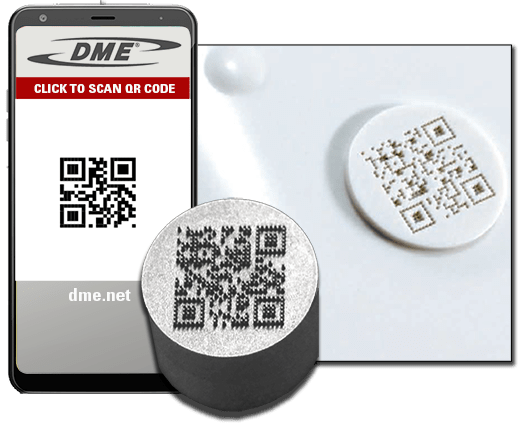 DME QR-Code Insert
Add a QR-Code directly to a product itself.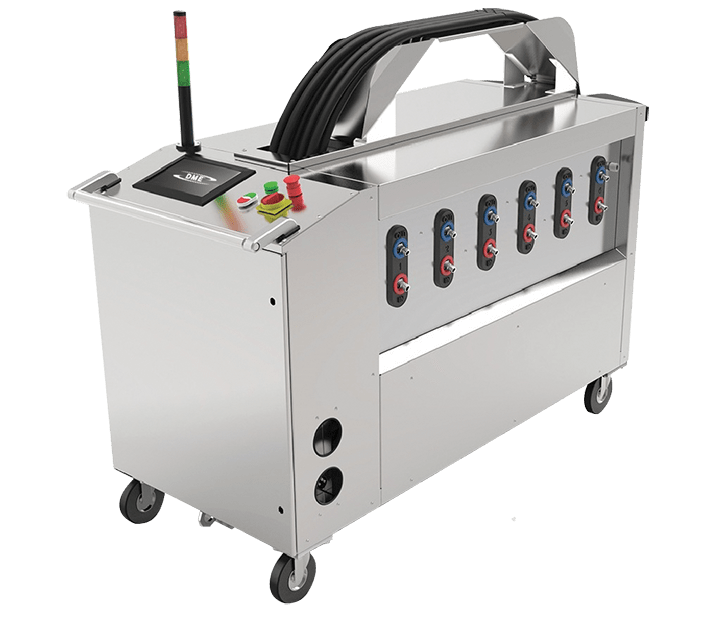 DME CoolingCare
Automatic Maintenance, Diagnostics & Conservation of Cooling Channels
Hot Runner Service & Repair
Controller Repair & Calibration
Barrel Repair & Resleeving
Worldwide: +1.248.398.6000
USA:
+1.800.626.6653
Canada:
+1.800.387.6600
Mexico:
+52.442-.713.5666
Europe:
+32.15-.215011
Asia:
+86.775.8601.9031