Next Generation Stack Mold Plate Control!

EZ Stack Ball Screw Centering Device
Custom Cut in Lengths up to 2000mm

DME has deployed the same precise engineering concept used for years in CNC machining. The advanced patented design of the new DME Ball Screw Centering Device provides precise movement and reduced friction for a smooth open/close of your stack mold. This unit is easily custom fit to your application with off-the-shelf availability. A simple cut to length to the mold stack height and bolt on features allow for quick and easy installation with drastically reduced lead times. With up to 2 meters per second open rate, there will be no restrictions on cycle time. This system is built for speed and reliability…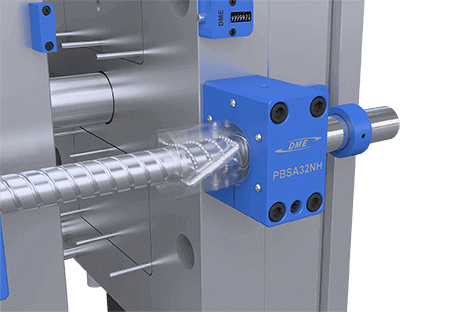 Custom fit to your application with off-the-shelf availability.

Easy to install

Modular

Long-lasting

Simple adjust feature

Cost effective
Shaft options:

30 or 42mm diameters

Custom cut legths up to 2000mm

The ball return, is a bidirectional mechanism, which resides within the stainless steel caps/rubber coated fiber bellows and moves the balls from the beginning to the end of stroke.
The bellows and stainless steel caps are a self-contained system to protect the performance of the ball screw and protect the molded plastic parts from contamination making it ideal for a clean room application.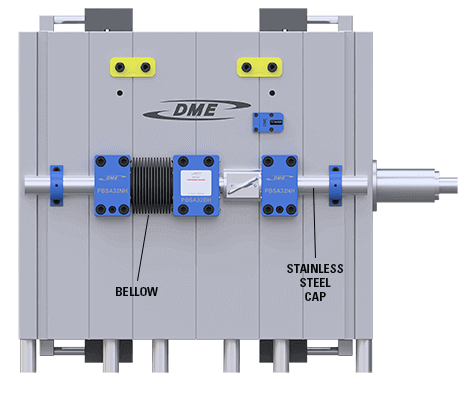 Worldwide:
+1.248.398.6000
USA:
+1.800.626.6653
Canada:
+1.800.387.6600
Mexico:
+52.442.713.5666
Europe:
+32.15.215011
Asia:
+86.775.8601.9031
Hot Runner Service & Repair
Controller Repair & Calibration
Barrel Repair & Resleeving