Flosense
FLEXIBLE FLOW MONITORING
BALANCED THINKING
Core to the DME approach is its integrated management of the thermal transfer process. In the melt phase care is taken to maintain consistent but not excessive heat, then, at the time of packing, efficiently cooling the part. By managing this entire process we are able to maximize the production of high quality parts.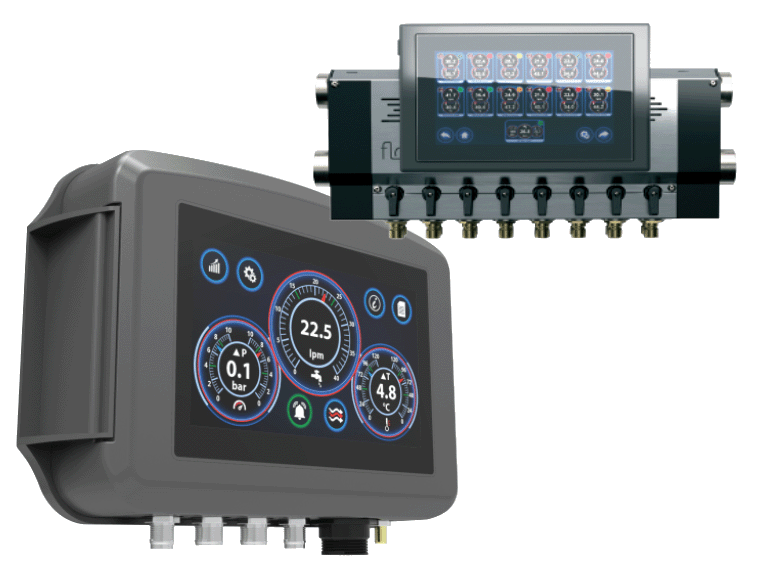 Provides Visibility of Key Cooling Circuit Metrics
Monitor Pressure, Temp, & Flow in 1-48 Zones
Quick To Install & Easy To Setup

Maximize Molding Performance
Faster Mold Changes
Saving mold configuration/parameters will allow much quicker mold set up next time
Reduced Cycle Time
Getting detailed information about each channel delta T will allow smarter distribution of cooling and optimized heat transfer
Improved Part Quality
Optimized heat transfer will ensure consistent part quality
Reduced Scrap
Faulty parts due to blocked waterways will be eliminated when monitoring the flow, temperature and pressure rates.
Energy Saving
Over cooling or high pressure loss requires more pump energy, Flosense will help adjust this to actual need and guide to reduced pressure loss.
Higher Productivity
Scale build up, rust and water contamination will give unplanned production break downs, Flosense will provide data to predict need for planned maintenance.
Batch Tracking & Validation
Production batches will have fully recorded documentation which is demanded in many industries including medical.
Maintenance Saving
Predict maintenance based on data analysis and avoid frequent scheduled maintenance not required.

Maximize Molding Performance
Now more than ever, molders rely on the control and optimization of the key operating parameters. By doing so, it's possible to fully exploit the capabilities of the mold design and deliver optimum production results.
Cooling performance of a tool can be overlooked in the design stage and later through limited visibility and control in the production process. By adding the Flosense Water Monitoring System to your molding process, you are able to analyze the cooling and run your tool at the highest performance level possible. Deviations from target are quickly and easily identified and addressed within seconds.
RESULT: Higher Output of Quality Parts improving your overall investment economics.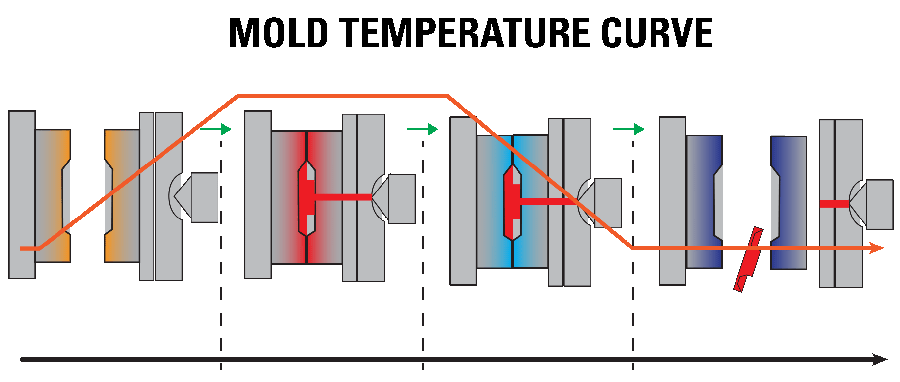 Flosense, provides visibility of key cooling circuit metrics, improves efficiency, enhances productivity and profitability.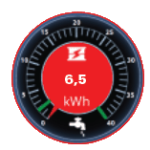 ENERGY TRANSFER INDICATOR
Heat is transfered from the mold through the water channels, Flosense calculates the heat transfer as energy units BTU or kWh. This feature illustrates the effeciency of the process.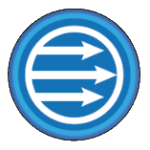 TURBULENT FLOW INDICATOR
Often regarded as a key indicator in the efficiency of a mold cooling circuit, Flosense is fitted with a turbulent flow indicator. The unit will indicate laminar, transitional and turbulent flow as well as monitoring the Reynolds number, based on flow diameter and percentage glycol in the system.
Improving the flow from laminar to turbulent can increase the heat transfer efficiency by up to 500%.
Flosense, provides features and interfaces to monitor, analyse and verify data, essential for your productivity and quality.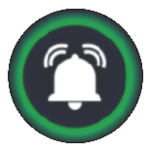 ALARM OUTPUT
With programmable alarm limits on flow, temperature and pressure any variation in the values being monitored will trigger an on-screen alarm. An external alarm output signal can be connected to auxiliary equipment which could be a visual or audible beacon, the mold heater or the injection molding machine.
Even in a 'hose burst' situation the unit will identify a sudden loss of pressure and the unit can either be connected to an alarm or could be used to automatically shut down the mold heater.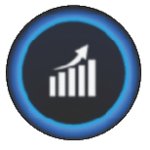 DATA RECORDING
Data is recorded and stored in the internal memory enough to display data for the previous 30 days.
Flow, Temperature and Pressure are logged and may be viewed in the graphing screen.
The last 30 days of data is recorded and stored on the internal memory.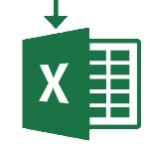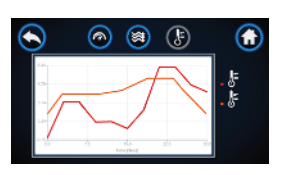 DATA EXPORT
It is also possible to download the data to a laptop using the integrated USB port for further analysis.
The data is stored as text file and can be analysed using excel or other analysing software.
Flosense measures flow, temperature and pressure on a single flow channel using a single combined sensor. When used in an injection molding circuit, Flosense also has the ability to connect to a second temperature and pressure sensor.
Flosense calculates and displays the difference in temperature and pressure known as 'Delta T' and 'Delta P' with one sensor on the 'flow' and one on the 'return''.
Using these values, Flosense provides an indication of the stability of the process and checks the efficiency, identifying wasted energy and variations in pressure which could indicate leaks or blocked waterways.
Flosense is designed to be installed in various locations within the cooling circuit including the main water supply, the mold heater, critical cooling channels or distribution manifolds.
Quick to install and easy to set-up, Flosense is a critical component in any injection molding configuration and should form part of any setup where cost control and quality are key considerations.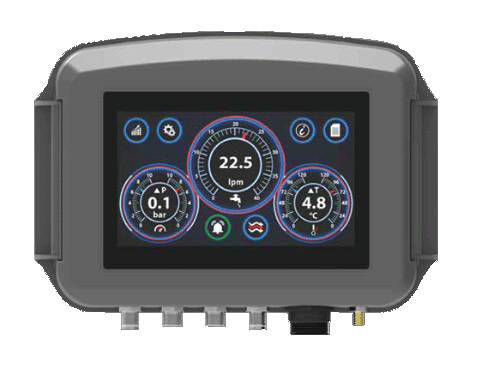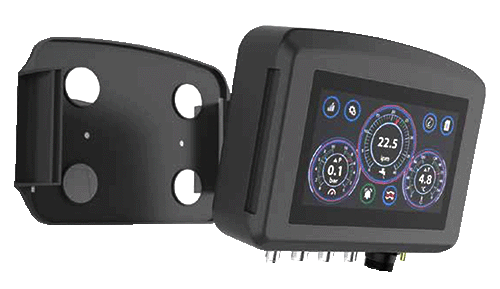 Pressure loss is caused by hoses, fittings and valves and will affect the productivity. Difference between inlet pressure and return pressure is measured as Delta P. Variation in Delta P could indicate pump failure, blocked waterway, leaks etc.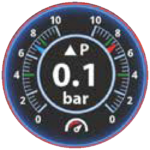 As the cooling water passes through the mold it transfers heat from the steel into the cooling water. The more turbulent the flow the more efficient this process of cooling.
Difference between inlet temperature and return temperature is measured as Delta T.
Sudden variation in the Delta T may be caused by a faulty heater/cooler, blocked channel, scale build up etc.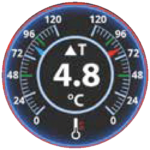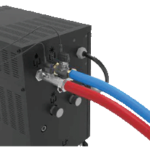 Flosense 3.0
DIGITAL FLOW REGULATOR
Complete unit with Pressure sensor installed on main inlet.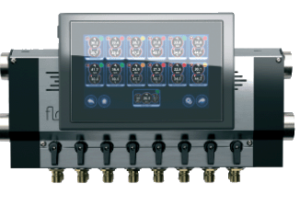 Update your old flow regulator with today's cutting edge technology.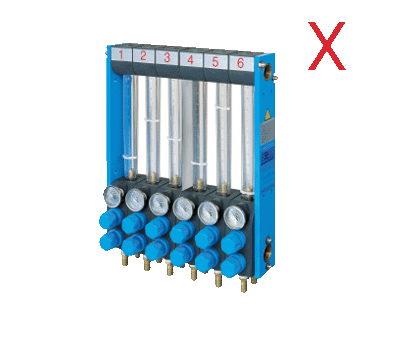 Replacing traditional analogue manual flow regulators with new digital flow regulators will give you many advantages such as: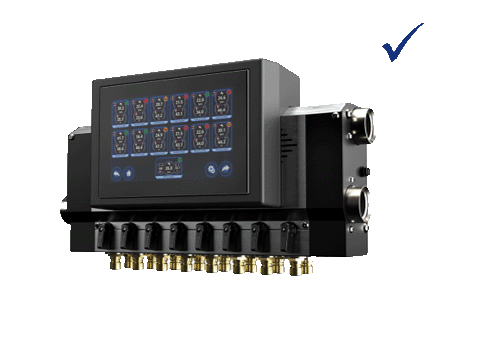 Digital monitoring of Flow, Temperature and Pressure
Alarm Output
Higher Flow Capacity
Higher Temperaure Range
Data Storage & Export
Faster Mold Changeovers
OPC-UA / Euroamp Interface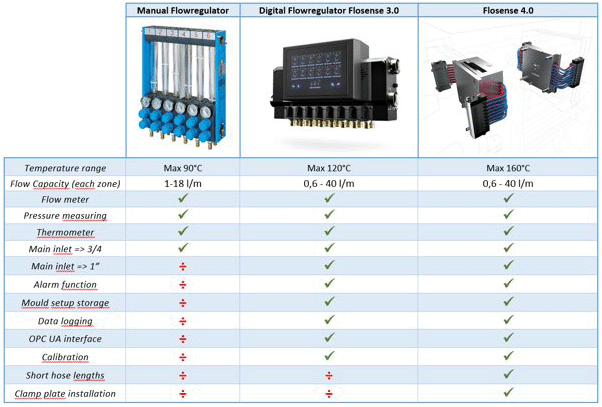 At last you can see real flow measurements at a glance, and use the alarm limits (and output) on flow and temperature to control the process stability and part quality.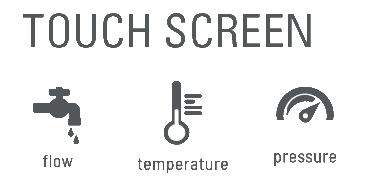 Upgrade your molding machine with new digital flow regulator and improve your productivity.
Replacing traditional analogue manual flow regulators with new digital flow regulator technology will give you many advantages such as:
Digital monitoring of Flow, Temperature and Pressure
Alarm Output
Higher flow capacity
Higher temperature range
Data storage and export
Faster Mold changeovers
OPC-UA / Euromap interface
Touch Screen mounted on the manifold.
Equipped with power, alarm, USB and Ethernet connections.


Flosense 4.0
DIGITAL FLOW Manifold
Upgrade your molding machine with new digital flow manifold and improve your productivity.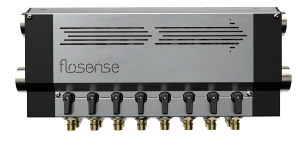 Touch Screen with 4 manifold inputs.
Magnetic bracket for easy installation.
Equipped with power, alarm, USB and Ethernet connections.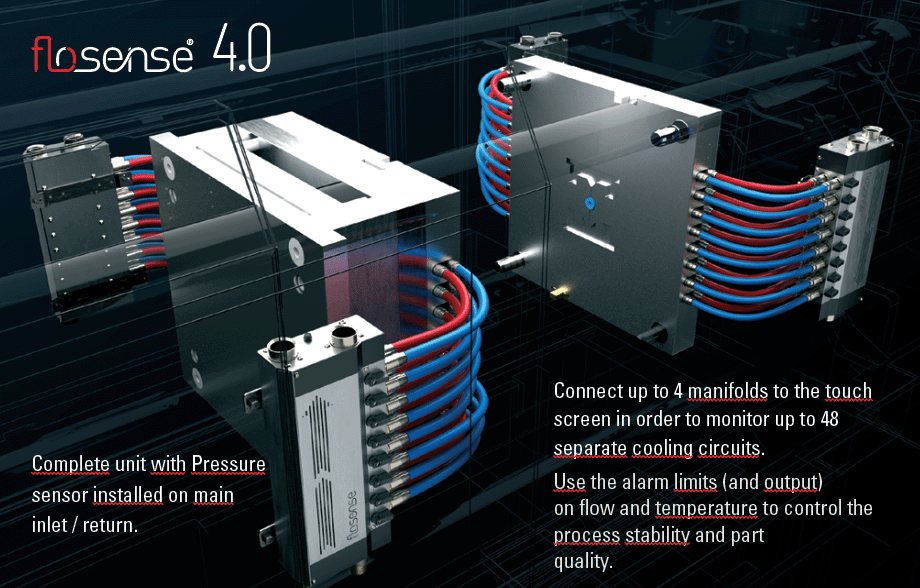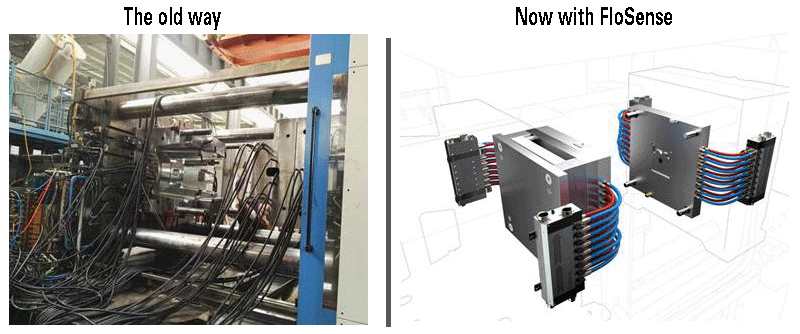 Flosense 4.0
Digital Touchscreen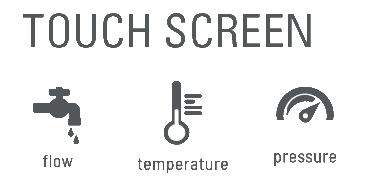 Individual Circuit Screen – flow, temperature and Delta T (circuit name, alarm status, turbulent flow, indicator)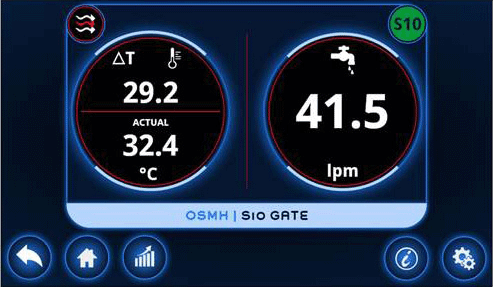 Setting Screen – set language, units, data download rate from this tab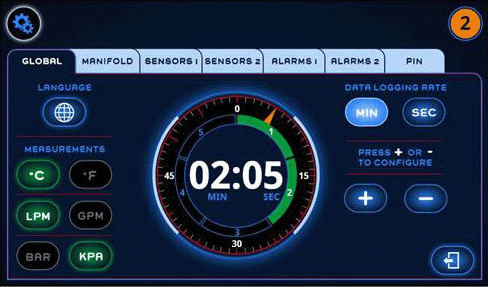 Setting Screen – set manifold name, percentage glycol (viscosity), channel diameter from this tab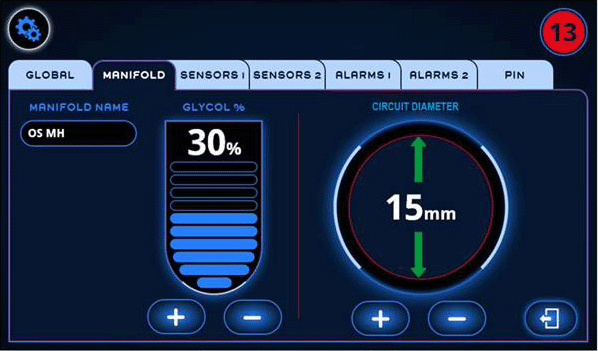 Setting Screen – set upper and lower alarm limits for each circuit on flow and temperature from this tab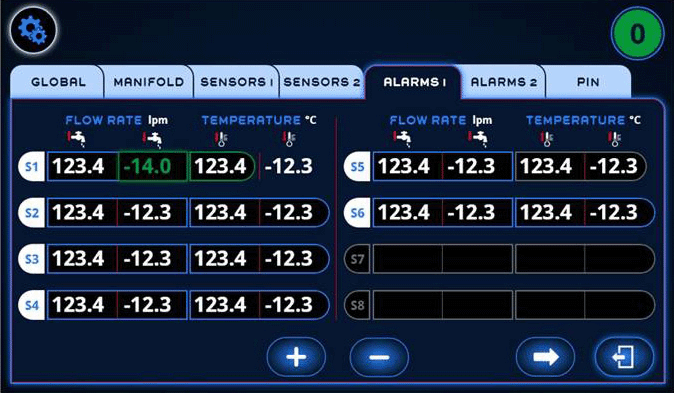 Flosense 3.0 & 4.0
OVERVIEW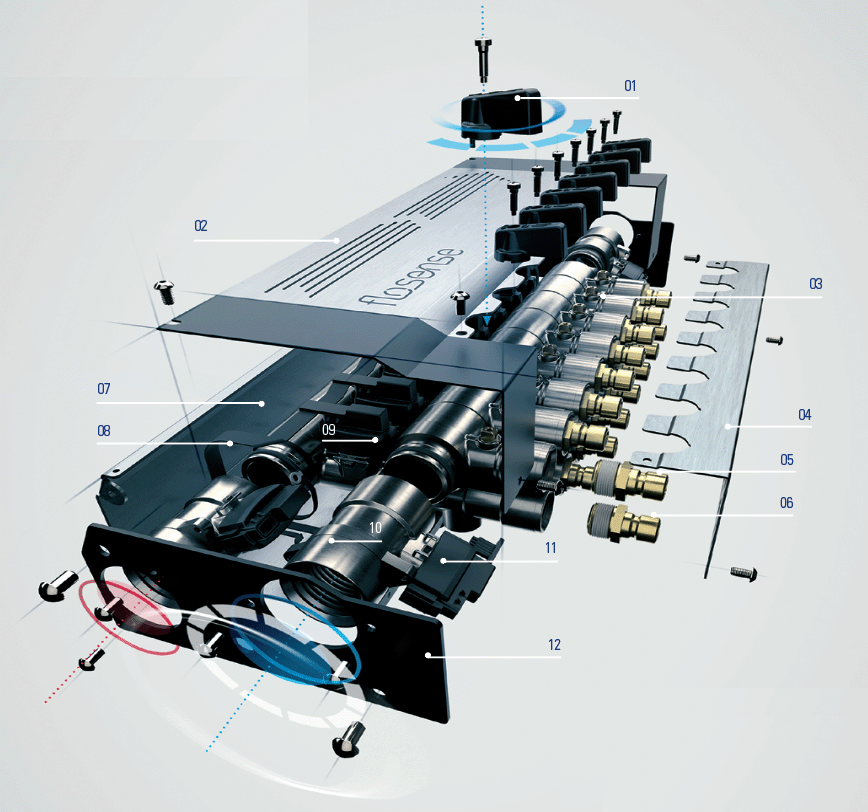 FloSense 3.0 & 4.0 Overview:
01 – Dual Port Ball Valve
02 – Top Cover
03 – Individual Flow Module
04 – Front Cover
05 – Flow Circuit
06 – Return Circuit
07 – Base Frame
08 – Cable
09 – Flow / Temperature Sensor
10 – End Module
11 – Pressure / Temperature Sensor
12 – End Plate
Material:
Flow Modules: DZR Brass / Nickel Plated
Cover: SS AISI304
Brass Modules: DZR Brass
(dezincification resistant brass – resistant to corrosive & hard water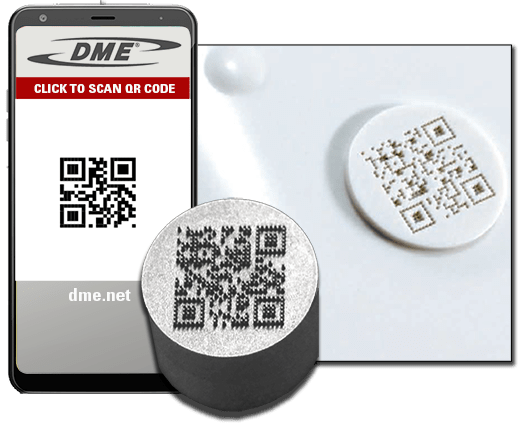 QR-Code Inserts

Add a QR-Code Directly to Products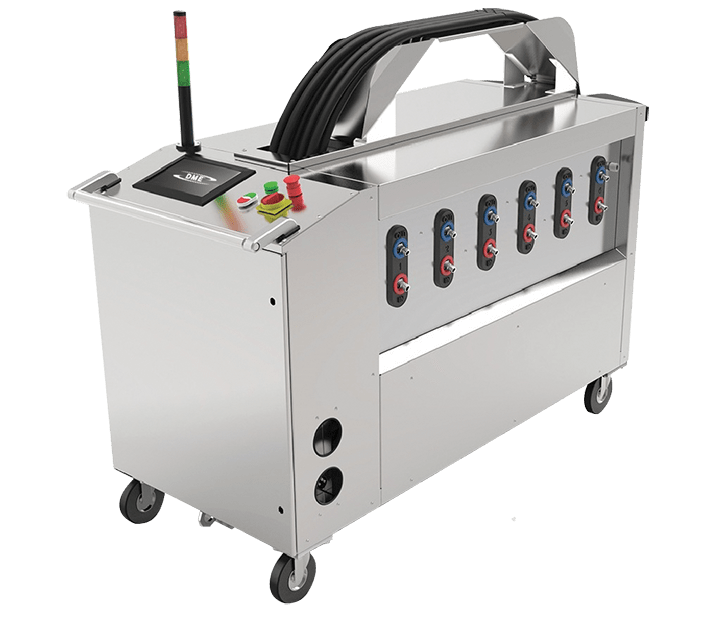 DME CoolingCare
Automatic Maintenance, Diagnostics & Conservation of Cooling Channels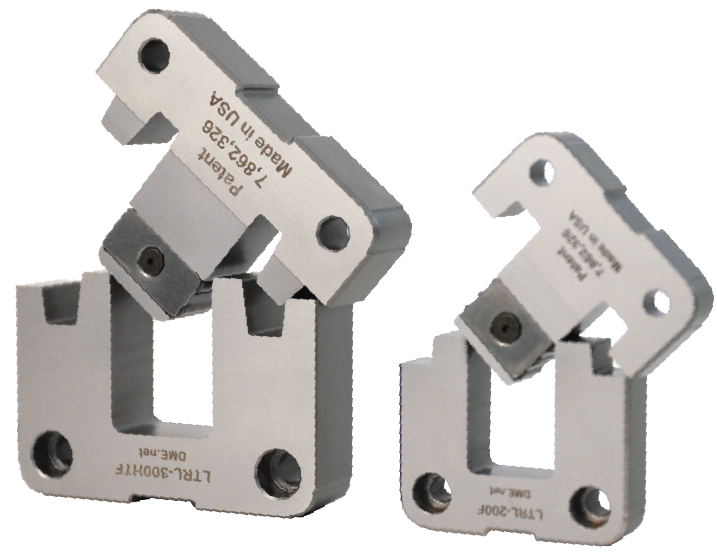 DME LT-Series LifeTime Roller Locks

NEW -Roller Bearing Side Locks available in Hi-Temp and Stainless Steel
Worldwide:
+1.248.398.6000
USA:
+1.800.626.6653
Canada:
+1.800.387.6600
Mexico:
+52.442-.713.5666
Europe:
+32.15-.215011
Asia:
+86.775.8601.9031
Hot Runner Service & Repair
Controller Repair & Calibration
ProService (CoolingCare®)
Barrel Repair & Resleeving