DME iControl™ Hot Runner Insulation
The Industry Challenge:
Ideally, all components in a controlled thermal system will be in a state of thermal equilibrium, or at the same temperature. Because no thermal system is perfect, there will be constant heat loss from the hot runner system to the cooler, surrounding steel plates, primarily through conduction and convection, as shown in case study 1. The conventional hot runner insulator is air, but air's thermal conductivity increases as processing temperatures rise, increasing the heat loss. Most often, the result is operating the hot runner at temperatures higher than desired to overcome the losses, and may result in:
Longer Cycle Times
Higher Energy Use for Heating and Cooling
Part quality issues
Changes in the polymer molecular structure
Polymer degradation
Hot Runner Thermal Analysis Temperature Variance
Blue areas are in direct contact with the mold
Green areas are the cold section relevant to the process which drives the temperature setting
Yellow areas are now "hot" relative to ideal for the material
Creates thermal variation / imbalance in the hot runner system
Leads to higher melt temperature to compensate for the lowest temperature in the system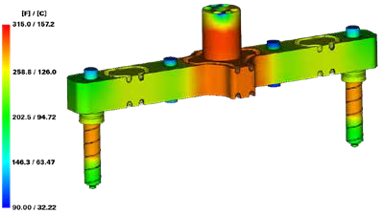 The Solution:
iControl Hot Runner Insulation. iControl provides insulating properties to the hot runner system. Capturing the heat may create a more uniform thermal profile across the entire system, allowing processing temperatures to be lower to maintain uniform and lower melt temperatures.
Less Heat In = Less Heat Out = REDUCED CYCLE TIME / REDUCED ENERGY CONSUMPTION