High Turbulence Plastic Baffles
The Worlds Most Advanced Baffle
Increases turbulence and transfer heat from your tool more efficiently saving money with shorter cycle times and reduced scrap levels
Mold Designers
Use in your design to help eliminate hot spots and better balance the Delta T across the surface of your mold.
Mold Makers
Reduce your cost with the spped and ease of installation cutting the part to the desired length with a simple pair snips or gate cutters.
Molders
Increase turbulence and reduces heat more efficiently resulting in faster cycle times and higher output.
Overcoming the limitation of conventional machining the DME High Turbulence Baffle takes advantage of the versatile properties of plastic and the injection molding process. Its patented internal structure is designed to deliver the optimum in turbulent flow throughout the entire water channel all the way to the tip.
Benefits over traditional brass baffles include:
Superior turbulent flow Lower purchase price
Reduced replacement cost during tool preventative maintenance.
Ease of installation and length sizing
Light weight and easy to handle in bulk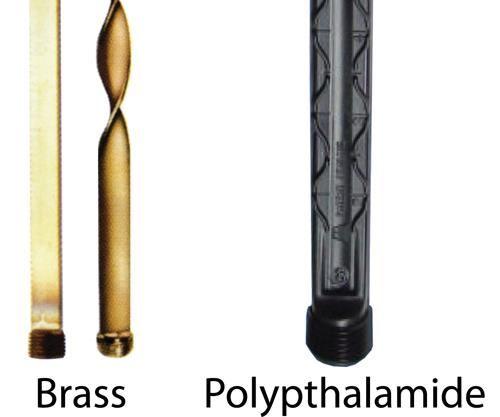 Lower Your Cost and Installation Time
Recognized worldwide for its performance and superior value, the DME Plastic Turbulent Flow Baffle is resin injection molded making it highly cost competitive against inferior brass-based products. Maintenance costs are also minimized if the baffles ever need to be replaced.
When installing traditional brass baffles, sizing them can be time consuming and require saws or grinders adding cost and creating unnecessary safety concerns. With DME Plastic Turbulent Flow Baffle the length can be established by simply cutting the baffle with shears or snips, or best, the DME premium gate cutter.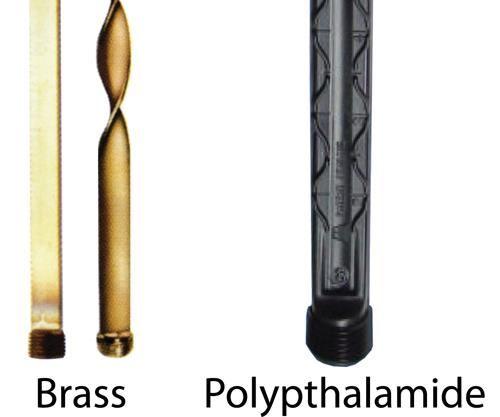 Put the best into your molds by installing DME's High Turbulence Plastic Baffles in your next project.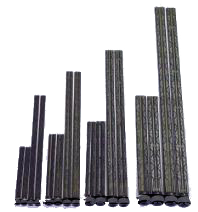 Reduced Cycle Time by Superior Cooling
Directing water upward into tight areas with traditional baffles only offers part of the solution. In some cases, there is enough clearance on the sides to allow significant bypass which means water flow may not reach the top of the baffle. Another consideration is that you may not be getting sufficient turbulence due to the smooth surface of brass baffles. This can require increased pressures to generate ideal turbulence and attempt to generate flow to the top of the baffle.
DME's Turbulent Flow Plastic Baffles offer the full solution by incorporating side wipers on the edges that ensure a solid shutoff preventing blow-by. In addition, there are patented fins on the face of the baffle that continue stirring water which increases turbulence without the need to increase flow velocity. Make sure you're getting the most out of your cooling system by requiring DME's turbulent flow baffles in your molds.
Benefits over traditional brass baffles include:
Reduced cycle time
Lower energy costs
Helps resist corrosion
Lower temperature delta
Minimize warpage and scrap/waste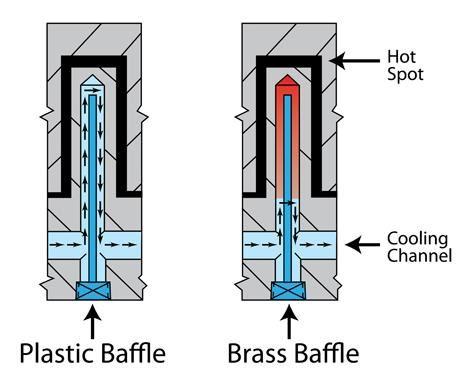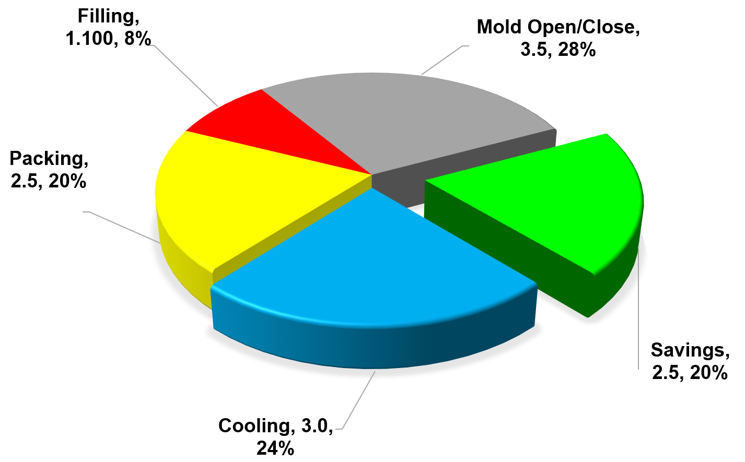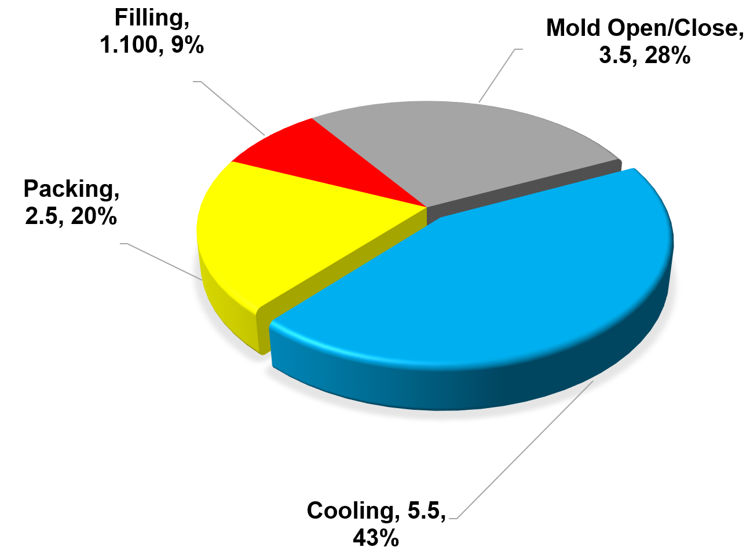 DME Turbo Flow Plastic Baffles
Turbulent Flow Plastic Baffles provide superior mold cooling performance versus traditional brass baffles-dramatically improving cooling time.
Plastic Baffles have built-in ribs that create turbulent flow and reduce stagnant laminar flow.
The product is effective in improving cooling of targeted hot spots and dramatically improves cooling time.
Molded of non-hygroscopic, glass-reinforced engineering-grade thermoplastic (polypthalamide) that excels under high heat.
Plastic Baffles provide better temperature stabilization. Pre-wrapped with PTFE tape, the product has a maximum coolant temperature of 212° F.
Patented side wipers prevent coolant blow-by ensuring coolant flow to the end of baffles.
Increases coolant flow velocity and lowers Delta "T" across mold surface.
Built-in ribs encourage turbulent flow and reduce stagnant laminar flow.
Features & Benefits
Results in better cooling of targeted hot spots.
Dramatically improves cooling time.
Specifications
Turbulent flow dissipates about 3x the BTU's as compared to laminar flow.
Non-hygroscopic, glass-reinforced engineering thermoplastic (polypthalamide) excels under high heat, providing better temperature stabilization.
Pre-wrapped with TPFE tape.
Maximum coolant temperature recommended: 100⁰C (212⁰F).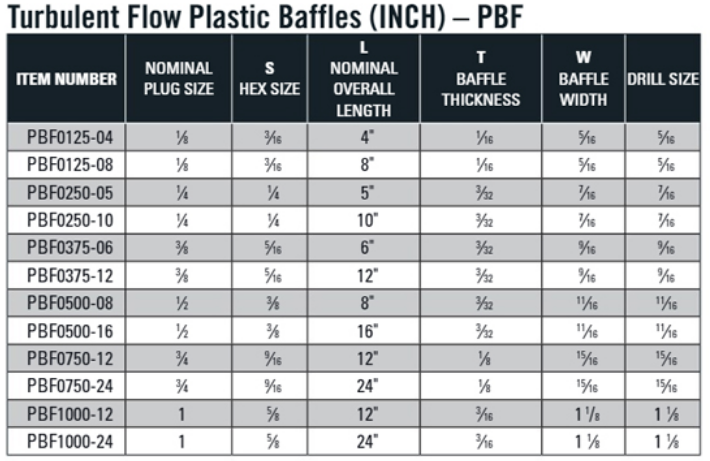 See how DME High Turbulence Plastic Baffles perform by visiting the video below…