Mold Lifting & Rigging Hardware
New Hardware Solutions
Certified to highest safety ratings, hoist rings from DME fit your needs.
Lifting Best Practices
Make sure you're using your eyebolts and hoists rings the proprer way for maximum safety.
Superior Quality Lifting Hardware
At DME safety come first, this philosophy has driven us to offer a collection of Mold Lifting and Rigging hardware that has been certified and proof tested. We stand behind these products and are confident they are the highest quality in the industry. Keep your most valuable assets, your employees and materials safe by using DME lifting hardware.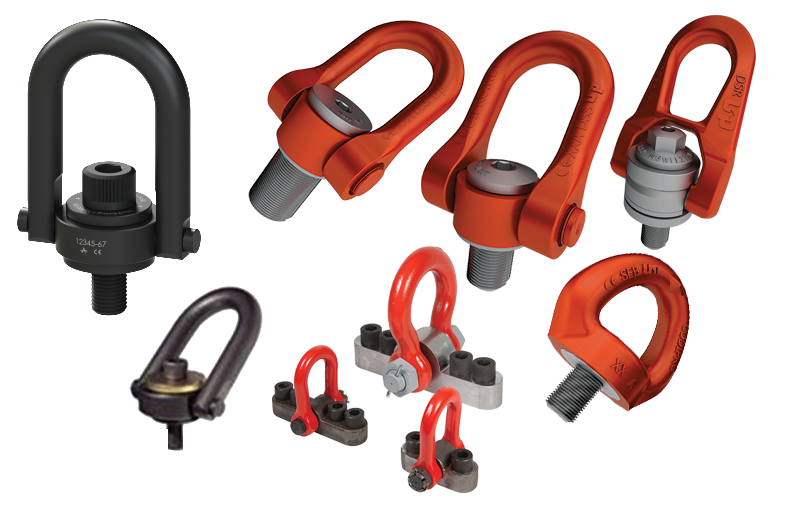 The GRADUP range has been especially developed to be the quintessential swivel lifting ring, particularly in terms of the quality of the raw materials used.
The CODIPRO research department, supported by advice from internationally renowned research centers, selected the best quality steel to achieve the best balance between tensile strength, breaking load and fatigue strength.
Each component of the GRADUP lifting rings' hinge system has also been reviewed. The outer crowding dimensions, the screw couplings and the openings are compatible with CODIPRO lifting rings already on the market.
This major innovation, the GRADUP lifting ring, is the fruit of more than 40 years' experience combined with in-depth research.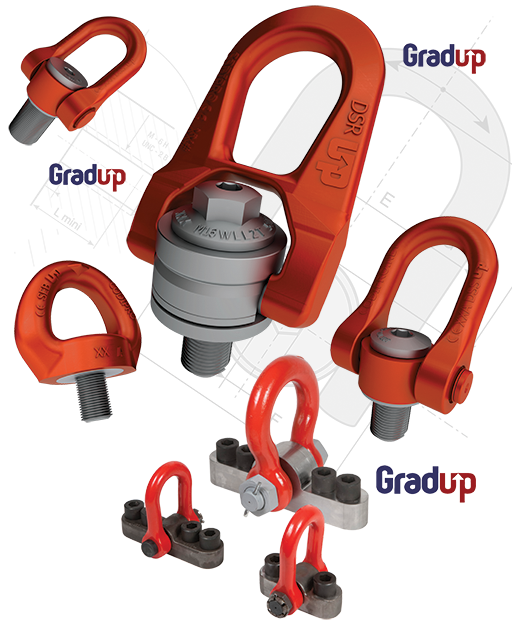 Metric thread: M5
M42UNC thread: U 025
U 125Swiveling under load
Usable for any kind of lifting operation
Two possibilities of bolt tightening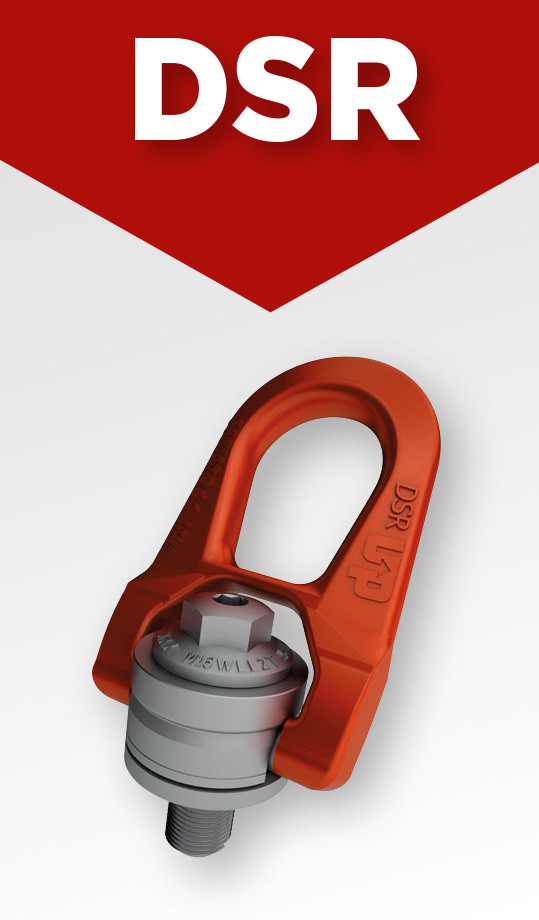 Metric thread: M24 > M150UNC thread: U 100 > U 400
Swiveling under load
Usable for any kind of lifting operation
Wide shackle opening – easy to use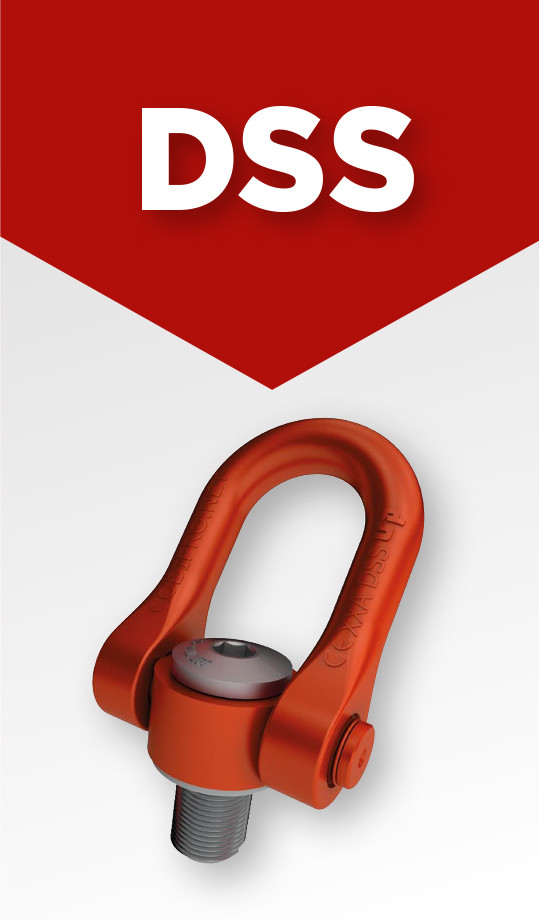 Metric thread: M8 > M48
UNC thread: U 038 > U 150
Swiveling under load
Usable for any kind of lifting operation
Solid rotating bushing -> easy rotation under load Safe alternative to DIN 580
Torque key adaptor available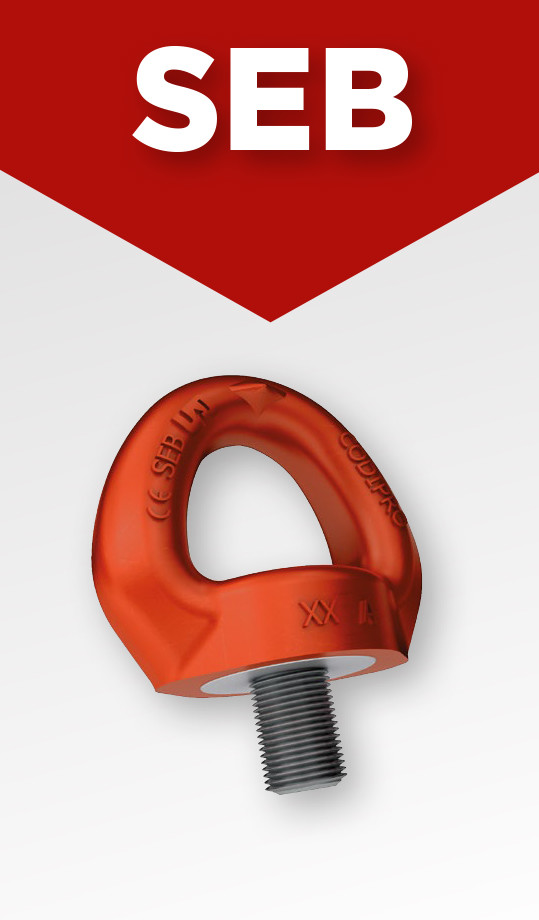 The quality of the steel is the essential characteristic of a swivel lifting ring. In the world of lifting, it is normal to speak in terms of class of steel, or "grade". This "grade" is what it's all about for a chain, because the diameter of the chain combined with the class of the material is what gives the lifting capacity. In recent years, some "grades" that are higher than others have appeared on the market. Based on this, many manufacturers are offering lifting rings of class 10, 12, 14, etc. These descriptions are not relevant for lifting devices with multiple components, such as a swivel lifting ring. This is why CODIPRO is seeking to move away from this trend that is almost entirely based on marketing promotions.
By creating the GRADUP (or optimized grade) range, CODIPRO is offering a breakthrough innovation. In a swivel lifting ring with multiple components, each element is subject to different constraints. In order to offer maximum strength, each separate piece must be conceived so that the materials used and the design are the most appropriate for its function within the overall device. With the release of the GRADUP brand, CODIPRO is now offering an ultra-safe and ultra-high-performance lifting ring.
Full safety guaranteed for all lifting operations

Optimization of the raw materials for a significant improvement in WLL Corrosion resistant coating
Individual traceability number
Permanent grease lubrication between the components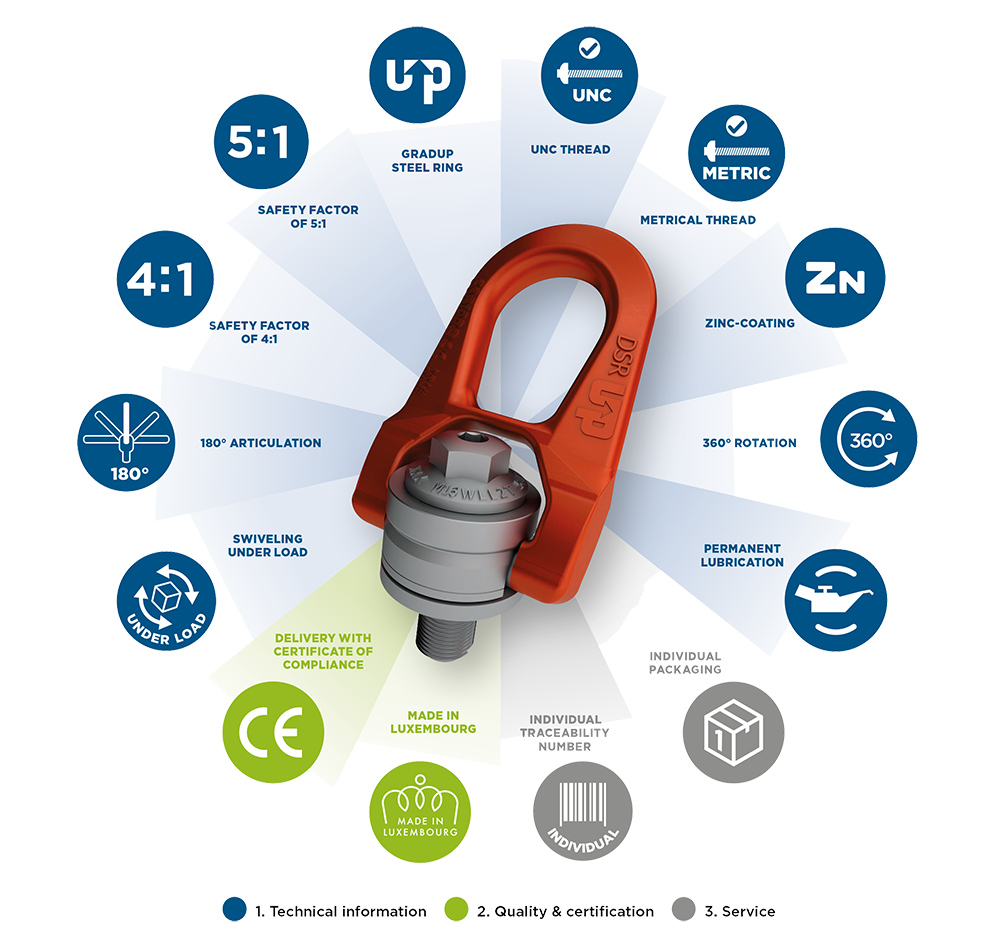 Hoist Rings
by American Drill Bushing
ADB SAFETY Hoist Rings
Material used: High strength 4140 alloy steel
Design Factor/Safety Factor: 5:1, Magnetic Particle Inspected Per ASTM E1444, Hoist Rings retain the same rated load from 0 to 90 degrees from the bolt axis, Standard tolerance +- .030 inch unless otherwise specified.
Finish Coating: Black Oxide Finish for corrosion resistance, Also available in Cadmium, Titanium-Cadmium, Nickel and other plating.
Approved Range of Movement: Swivel 360°, Pivot 180° Under Load
200% Proof Load Tested
Individually Serial Numbered
Patent Numbers: 5,848,815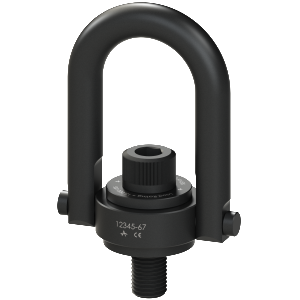 Since 1942 ADB has Provided the Safest Lifting Devices and Hardware Available
ADB is an industry leader in Hoist Rings and offers other lifting solutions for the multiple industries. ADB lifting products are made from high-strength alloy steel. Their ISO 9001:2008 Quality Assurance Program ensures all processes are controlled and implemented per their defined procedures providing the highest level of product quality.
Lifting Rings Made in the USA
ADB's Safety Engineered product line is 100% manufactured and assembled in the USA. All other product lines consist of a majority of USA manufactured components and are assembled and inspected in their Georgia Manufacturing Facility.STD-209K.
Over 75 years of high quality SAFETY Hoist Rings
Full 360° Swivel and 180° Pivot for full Action
Rated at 5:1 Strength Factor
Material: High Quality Alloy Steel
Finish: Black Oxide (Except Washer)
U-Bar, Bolt, Pins, Base, Washer and ­Bushing are Magnetic Particle Inspected
Washer: Zinc Plated with Gold Colored (Inch), Clear/Blue (Metric) Conversion Coating for easy visual  ID
Proof Tested to 200% of Rated Load Capacity
Certificate of Proof Test provided with each ring
3D Solid Models available for down load in multiple formats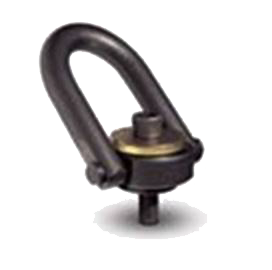 Rugged American Made Quality
Jergen hoist rings are made right here in the USA, starting with domestically-produced, certified alloy steel. Choose Jergens and get tough, dependable, American-made quality every time.
Quality Control for Safety's Sake
Their quality control procedures define the entire manufacturing process and provide complete traceability from raw materials, tested in Jergen's metallurgical lab, to finished product. Their state-of-the-art, 110,000 square foot facility is ISO 9001:2008 rated, and their center and side pull hoist rings are CE certified. Finally, all hoist rings conform to the following standards: (OSHA) 29 CFR 1918, ASME B30-26, MIL-STD-1365C, MIL-STD-209K.
Safe Materials Handling – Lifting With Eyebolts
Selecting the correct bolt for each lift is critical in many ways.
Confirm the eye bolt is approved for the weight to be lifted, the rating should be foraged or stamped on the eye bolt. Some eye bolts only have thread size visible and Not the maximum approved WLL.
Use plain/regular eye bolts (non-shoulder) or ring bolts for vertical loading only. Angle loading on non-shoulder bolts will bend or break them.
Use shoulder eye bolts for vertical or angle loading (see the image below). Be aware that lifting eye bolts at an angle dramatically reduces the WLL (Working Load Limit).
Always follow the manufacturer's recommended method for angle loading.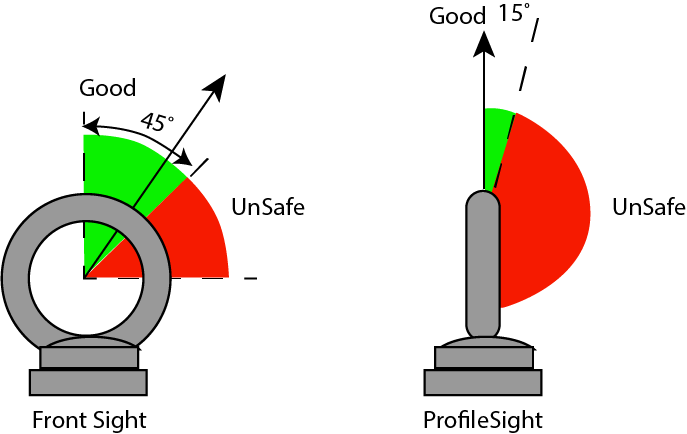 Incorrect use of eye bolts:
Image 1 (shown below) demonstrate eyebolts will not rotate to the load causing extra load on the chain, the eyebolt and on the threads of the object being lifted.
Image 2 (shown below) shows the wrong eyebolt was chosen for the application because it could not be bottomed out on the object being lifted. The result causes the eyebolt to bend and could possibly brake at a much lower WLL than advised on the eyebolt.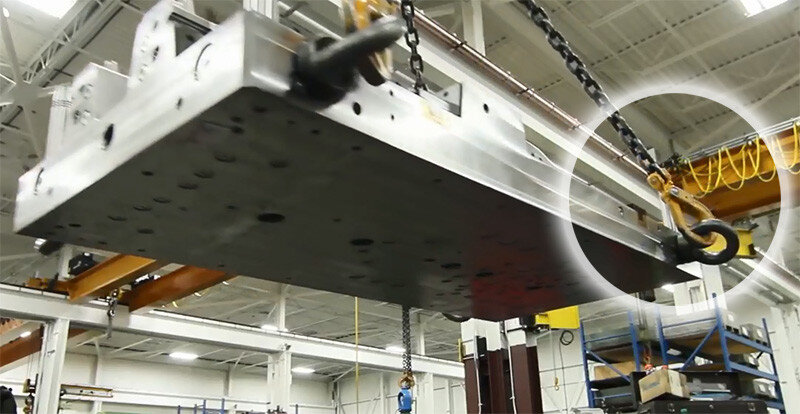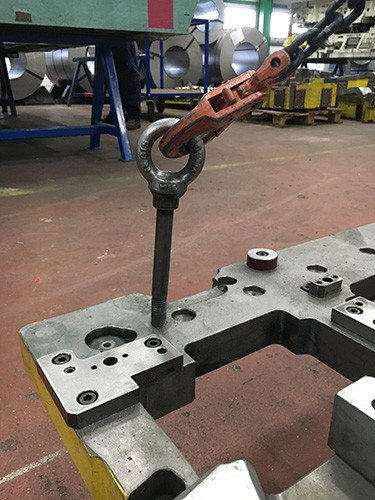 How should eye bolts be used/installed safely?
Orient the eye bolt in line with the slings. If the load rolls when lifted and applied sideways, the eye bolt may bend.
Ensure the eye bolt firmly contacts the surface if there are any gaps add washers between the shoulder and the load surface to ensure 360 contact. Make sure to properly torque the eye bolt and nut for through hole applications.
The threads of the eye bolt must engage at least 90% in a receiving hole when using shims or washers.
Only one sling leg should be attached to each eye bolt.
Inspect and clean the eye bolt threads and the hole threads. Check for bends, cracks, debris, or worn threads.
Screw the eye bolt all the way down and properly seat flush with the lift object.
For tapped holes ensure threaded portion of the eye bolt has a minimum depth of one-and-a-half times the bolt diameter.

Use a either a swivel eye bolt or hoist ring for angled lifts. The hoist ring will adjust to any sling angle each ring pivots 180 degrees and will swivel 360 degrees.
Tips for Safe Installation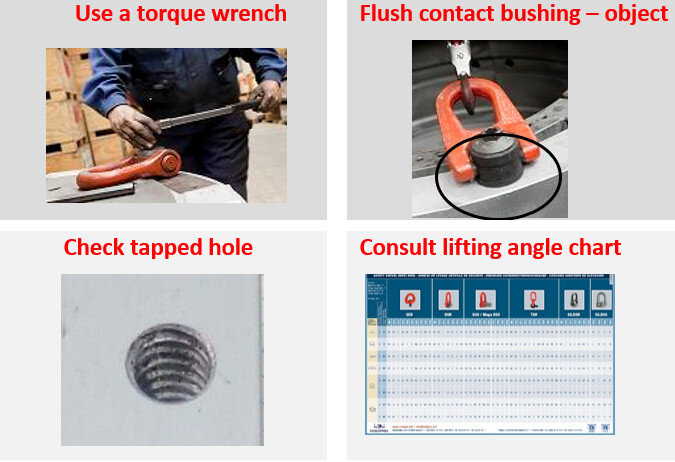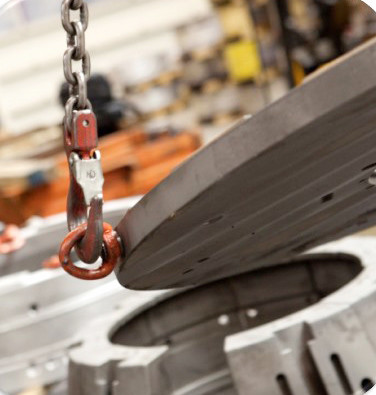 What should you avoid when using eye bolts?
Never use a single eye bolt to lift a load that is free to rotate.
Never use eye bolts that have worn threads or other flaws.
Never insert the point of a hook in an eye bolt, always use a shackle .
Never use a shackle that is capable of lifting more than the eye bolt.
Never run a sling through a pair of eye bolts this will reduce the effective angle of lift and will put more strain on the rigging.
Never force the slings through eye bolts. This force may alter the load and the angle of loading ratings.
Never use eye bolts that have been altered by grinding, machined or stamped.
Never use bars, grips or wrenches to tighten eye bolts.
Never paint an eye bolt this could cover up cracks and or flaws
Never force hooks or other fittings into the eye they must fit freely and should be rated the same WLL as the eye bolt.
Never shock load eye bolts as this could cause the eye bolt to snap.
DME Chain Slings offer versatility and security in a variety of configurations…
always Tested and CE certified. Combine with DME's other CE certified products for all your lifting needs.
Sling Hooks & Self Locking Hooks available
Grade 100 chain slings tagged with sling type, grade, size and working load limit
Tested and CE certified before shipment


Single Leg Chain Sling with Adjuster & Hooks

Double Leg Chain Sling with Adjuster & Hooks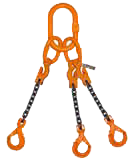 Triple Leg Chain Sling with Adjuster & Hooks

Quad Leg Chain Sling with Adjuster & Hooks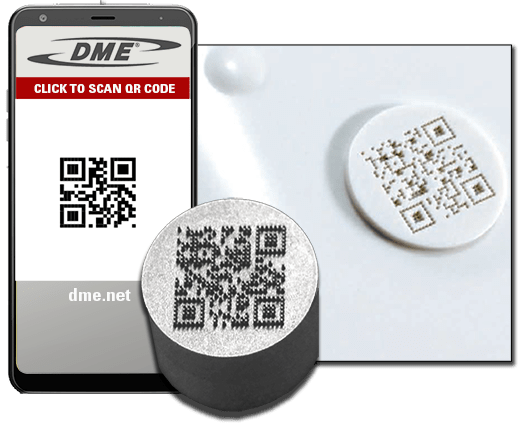 DME QR-Code Insert
Add a QR-Code directly to a product itself.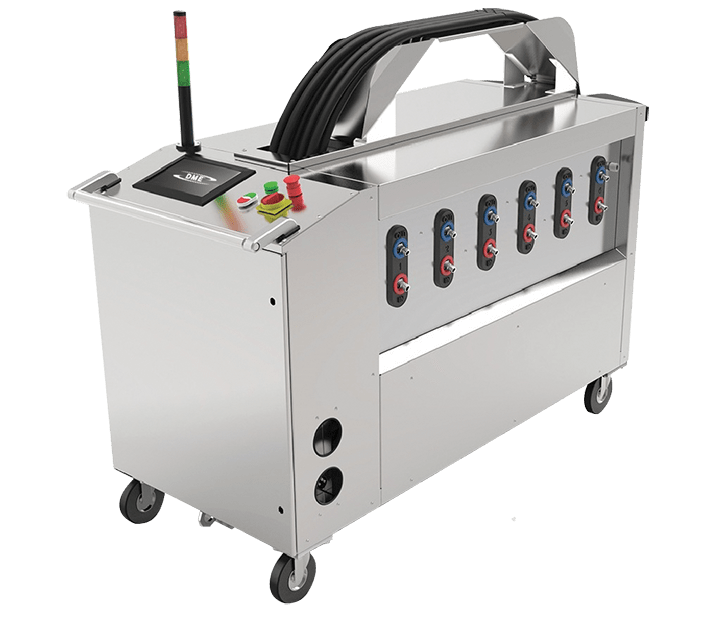 DME CoolingCare
Automatic Maintenance, Diagnostics & Conservation of Cooling Channels
Hot Runner Service & Repair
Controller Repair & Calibration
Barrel Repair & Resleeving
Worldwide: +1.248.398.6000
USA:
+1.800.626.6653
Canada:
+1.800.387.6600
Mexico:
+52.442-.713.5666
Europe:
+32.15-.215011
Asia:
+86.775.8601.9031