FREE Freight Shipping on eSTORE order over $150!
Small part orders, shipped within the contiguous USA qualify for "Free Shipping" if the order total is $150 or more. Some restrictions apply.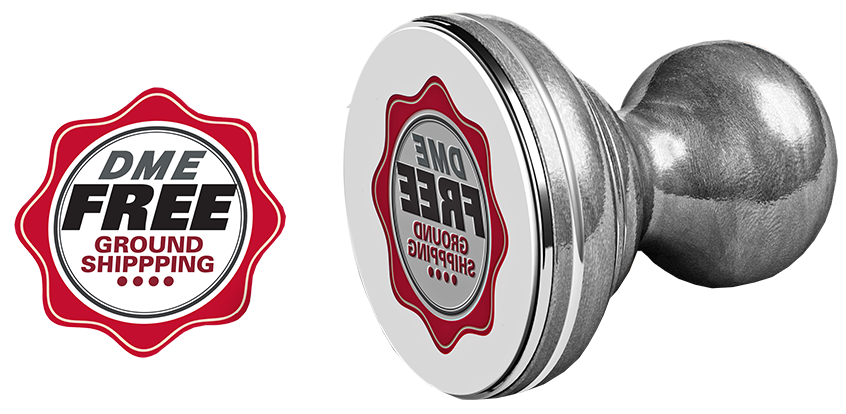 DME strives to offer the most efficient and convenient methods of shipping available.
Large or heavy items, such as Mold Bases and the 48×96 High Temperature Insulator Sheets, will require a truck shipment. You may specify any trucking line with whom you have a contract and DME will ship it "truck collect" with whomever you specify. If you do not have a contracted trucking company DME will do the work for you and use one of our trusted shipping partners.
Small or lightweight shipments have many options. Orders within the United States, unless specified otherwise by the customer, will be shipped via UPS, FedEx or DHL. If you have a contract with a parcel service, and provide a valid/active account number, your package can be shipped collect per your specifications. If you do not specify a service for these smaller lightweight packages, they will ship UPS. Packages coming from UPS have a maximum shipping weight of 70 lbs. each. Orders totaling over 70 lbs. will be divided into multiple boxes to comply with UPS weight restrictions.
DME Available Shipping Options
DME is dedicated to making shipping easy and provides these options:
UPS
Standard Ground
3-day Select
2-day Air
Next-day Air (overnight)
Next-day Air Early AM (weekday deliveries)
Next-day Air Saturday delivery
FedEx (collect only)
Express Saver
Standarday 2nd Day
2nd Day (AM) – Morning Delivery
Standard Overnight
Priority Overnight
Local Pickup
Note: Quoted DME lead times designate the number of days before your item(s) ship. The provided order lead time does not include transit time.
U.S.A.
PHONE ORDERS – TOLL FREE: 800-626-6653. DME's Customer Service Dept. operates Monday through Friday from
 8 a.m. to 6:30 p.m. E.S.T. Calls can be made from anywhere in the continental U.S. and Puerto Rico (Puerto Rico: use "137" prefix instead of "1"). Our Customer Service Representatives will be happy to answer your questions on DME products or services, provide on-the-spot feedback on product availability and shipping details, or take any messages you wish relayed to your local DME sales, manufacturing or technical service representatives.
Online Orders –  can be placed with or without a DME account
Faster checkout
Immediate confirmation orders automatically
Track your order
View order status
Create a list of frequently used items
Free ground freight on orders over $150.00 for registered DME accounts
More information about online ordering
MAIL ORDERS: If you prefer to order by mail, please address your order to:
DME Company, 29111 Stephenson Highway, Madison Heights, Michigan 48071-2330
ATTN: Customer Service Dept.
FAX: You may fax your order to:
DME Customer Service 248-544-5113 • 888-808-4363
CHECKS OR MONEY ORDERS: When paying invoices by check or money order, please make payable to DME Company. Include remittance copy of invoice and mail to:
DME Company LLC, Department Lock Box 774867, 4867 Solutions Center, Chicago, IL 60677-4008
VISA, MASTERCARD AND AMERICAN EXPRESS ORDERS: We gladly accept these major credit cards for

every type of transaction. Orders placed online with a credit card, by registered DME accounts receive free freight on all small pacel shipments. How to become an online registered DME account.
WALK-IN ORDERS, PICK-UPS AND RETURNS: If desired, ordered products in stock at your nearest DME Service Center can be picked up rather than shipped. Walk-in orders at Service Center locations can also be processed while you wait. Products being returned for repair or exchange should be processed through Customer Service prior to being returned.
SPECIAL MACHINING SERVICES: Prints for quotation on special machining work can be sent by EDI to [email protected] or mailed to the Estimating Department of the DME manufacturing location nearest you. Call our toll-free number to clarify location which serves your area.
Transmission Options, General Requirements & Preferred CAD formats
Estimating locations are:
1117 Fairplains Street, Greenville, MI 48838, Tel. 616-754-4601, FAX: 616-225-3924
3275 Deziel Drive, Windsor, Ont N8W 5A5, Tel. 519-948-5001, FAX: 519-948-4652
Please add "DME Company" and "Attn: Estimating Dept." to above addresses when mailing prints. To obtain prices and delivery on special mold base orders or to check status of special work in progress please contact Customer Service.
CANADA
ORDERS, QUOTES, PICKUPS, RETURNS: Please contact 800-387-6600.
CHECK OR MONEY ORDERS: Make payable to DME Company. Include remittance copy of invoice and mail to: 3275 Denziel Drive, Windsor, ON N8W 5A5.