EZ-LATCH
External Latch Locks
PREMIUM EXTERNAL LATCHES
PRECISION WITH EASE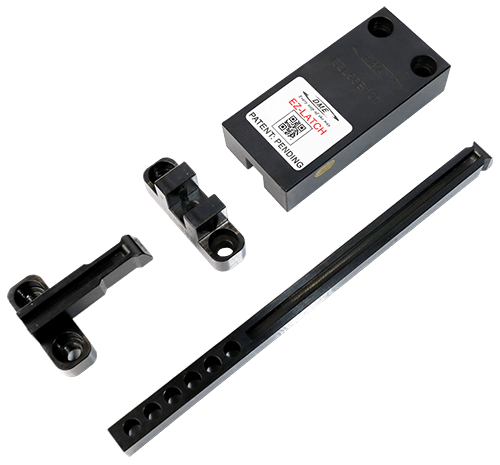 Precise Positioning For A Variety Of Different Molding Applications
DME's EZ-LATCH is the first truly universal external latch lock system. Most locks on the market are designed only for specific applications and require additional machining before they are ready for use making it difficult to select the right latch lock to correctly sequence the plates. The DME EZ-LATCH Lock, with its modular capabilities, addresses this limitation and, through its patented mechanical design provides safer and longer lasting performance.

Advantages Over The Competition

Providing A Controlled Sequencing Solution For Mass Production Molds
The DME EZ-LATCH Lock is the easy solution for all plate control application including 3 plate molds, 2-stage ejection, early plate return, both stationary "cavity" and moving "core" side ejection (in place of high cost hydraulic cylinders).

Unlike any other lock on the market, the DME EZ-LATCH Lock incorporates a positive mechanical lock avoiding the use of springs and/or friction devices a common source of product failure and even the occasional crashing of the tool. This safer solution provides a more consistent lock every cycle making it the preferred solution for mass production.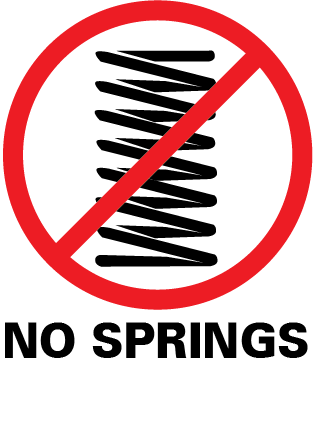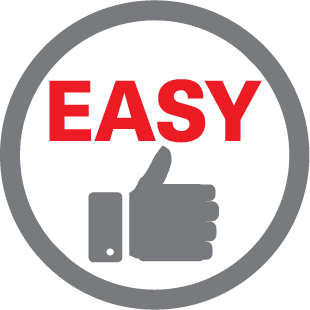 Designed For Ease of Installation
Its standard design makes it easy to install straight out of the box.
DME EZ-LATCH External Latch Locks
Positive and Precise Positioning of Floating Plates
Featuring
Ideal for molds with floating plates, including stripper plates & 3-plate molds

Floating plates are positively locked mechanically in place during mold opening and closing, preventing potential mold damage

Reliable long-life performance through its unique design and use of nitride diffused material, avoiding coatings that can wear off during use

Allows faster cycle times due to mechanical action vs latch locks that rely on springs or friction to lock plates

Simplifies mold design while improving design flexibility

Designed and engineered to hold large loads while saving space inside the mold


Optional long latch bar for greater stroke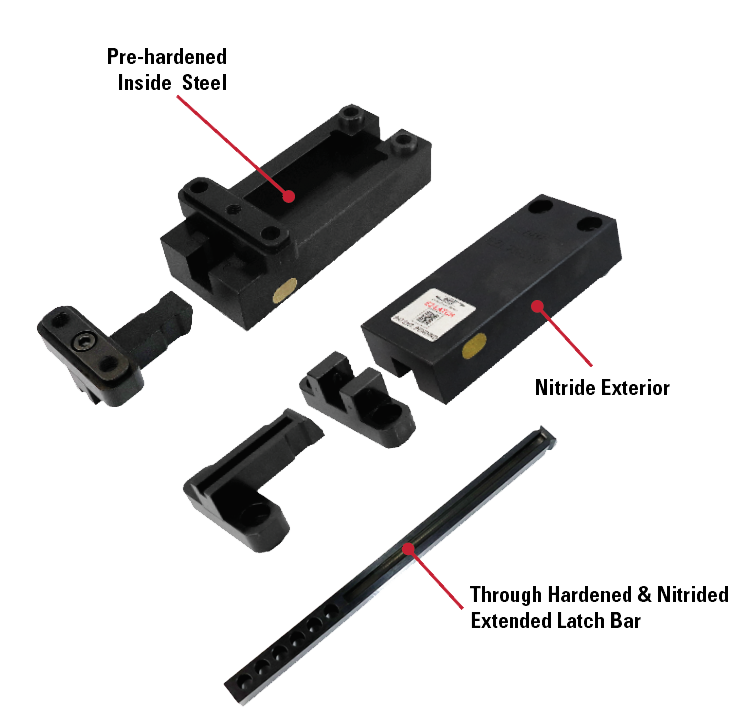 Benefits
There's a reason DME has added its new external latch locks to its EZ line of products:
EZ –

to install




EZ

– to sequence (time) plates


EZ

– to use on thin plates


EZ

– used for all plate control needs


EZ

– to disassemble & maintain

Does not use springs, stripper/shoulder bolts or friction components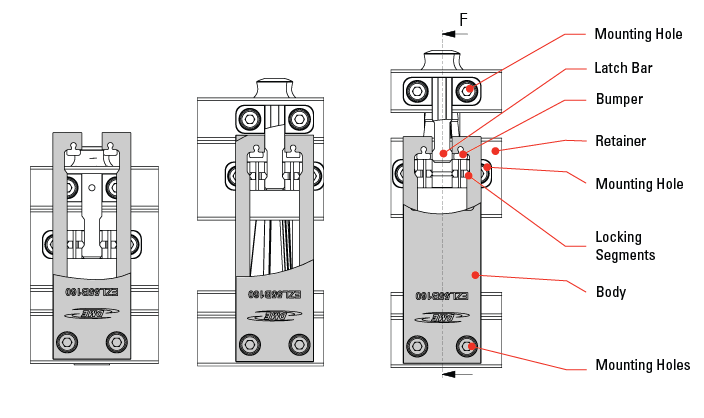 BIG 3 REASONS
For DME's EZ-LATCH External Latch Lock Success
Pre-drilled Extended Latch Bar
2-Piece Latch Bar Adapter  
Built in Delay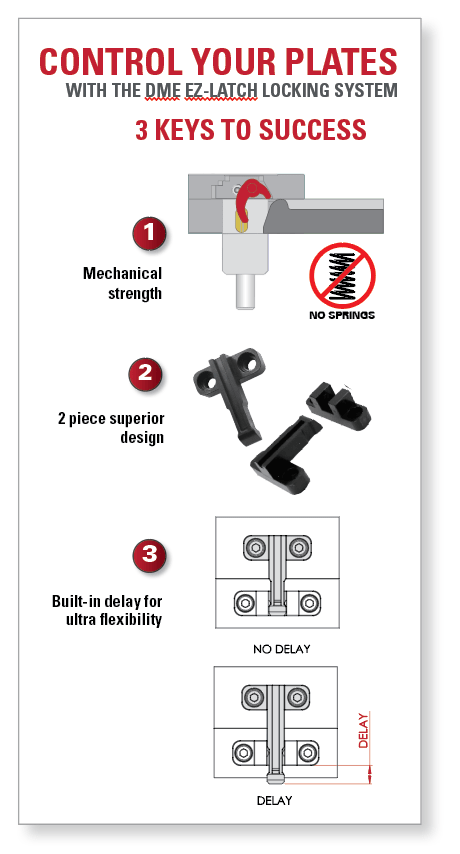 DME EZ-LATCH Locks
FOR BOTTOM LAST 2 STAGE EJECTOR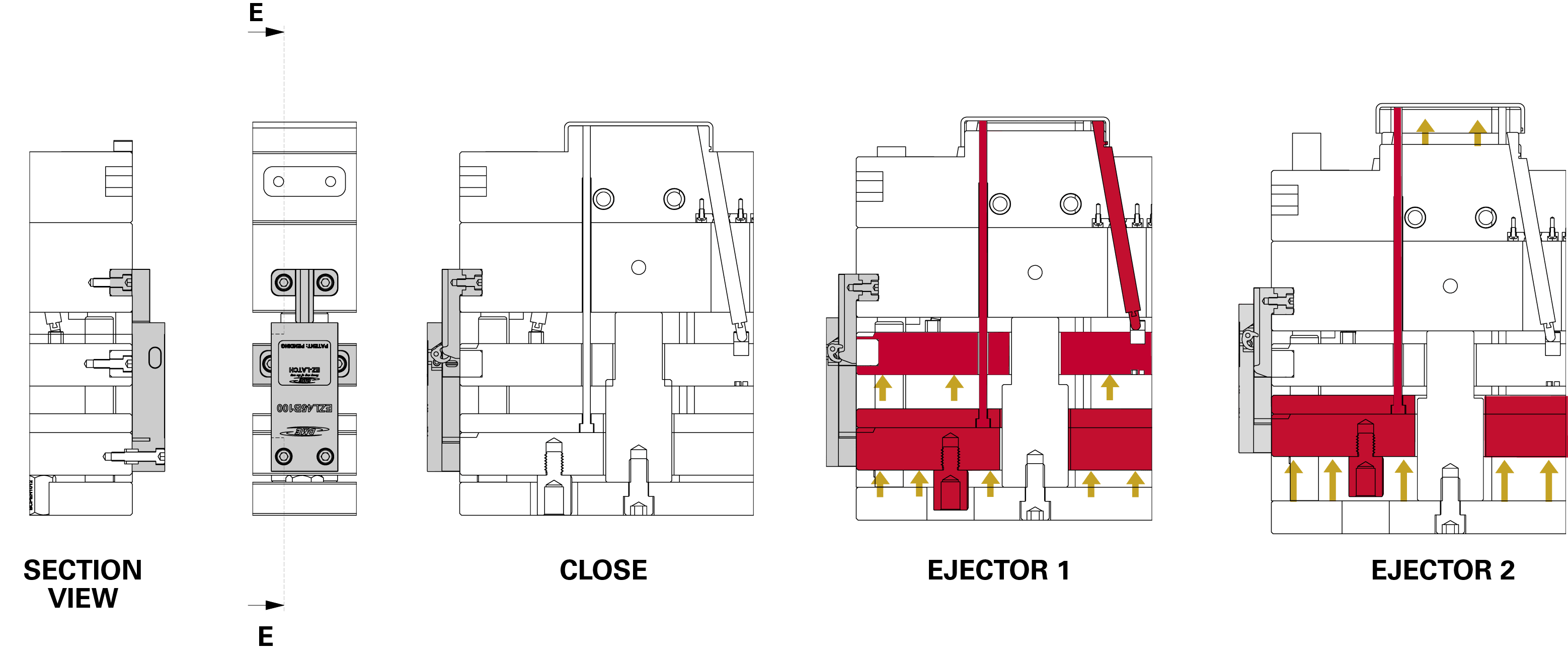 DME EZ-LATCH Locks
3-PLATE MOLD CONTROL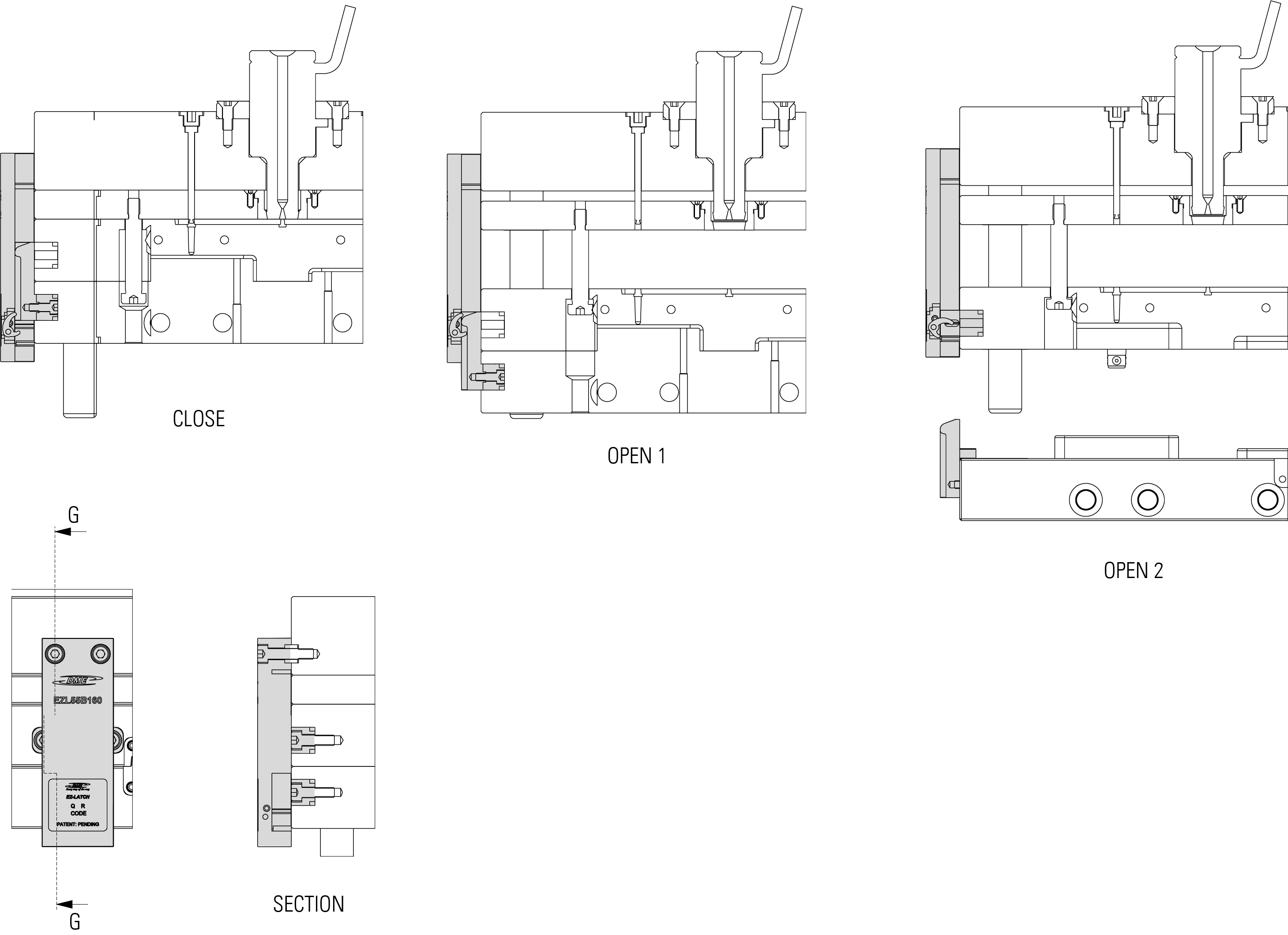 DME EZ-LATCH Locks
Bottom Last Sequence

DME EZ-LATCH Locks
Top Last Sequence

DME EZ-LATCH Locks
FOR EJECTOR (BOTH FIX SIDE AND MOVING SIDE)
Latch bar attaches to B plate with body attached to clamp plate creates delayed ejection.