DME® Quick-Change Prototype Adapter
Rapid Prototyping Adapter for DME MUD® Mold Bases
Cut prototype lead time up to 90%
Prototype cost saving up to 70%
Prototyping for: Medical, Automotive, Aerospace, Packaging & More!
Print the Mold
Why additive print a prototype part when you can print the mold.
Expand Your Inventory
Today's global manufacturing industries are fast-paced with new product innovation occurring daily.
Change is GOOD!
Enabling any facility to convert to rapid prototyping in less time and at a fraction of the cost.
Exclusively for DME MUD® Systems
Quick-Change Prototype Adapter
RAPID SUCCESS By Converting Your MUD® Mold Base To A Prototyping Base. Often there is a need for prototypes executed in real production materials, sometimes in low to mid quantities of parts (where production tooling isn't financially feasible). Your clients often have tight deadlines to meet the need to quickly market test a new product. Adding DME's Quick-Change Prototype Adapter to your existing MUD Mold System allows you to create fast, high quality parts ideal for "real world" use. Why 3D print your parts when you can 3D print your mold instead?.
Print the Mold NOT the Part
Replacing conventional machining of prototype molds, the new Quick-Change MUD Prototype Adapter enables the molder to take advantage of new 3D plastic additive printing technology to print the mold. This exciting new development enables any molder to offer rapid prototypes faster and easier than ever before. This value-added service supports fast product validation accelerating the developing cycle for any new product.
The patent pending prototype adapter allows you to switch from general production to prototyping in two minutes or less and then back to production. This creates the ultimate in flexibility and value since time on your injection molding machine is a precious commodity.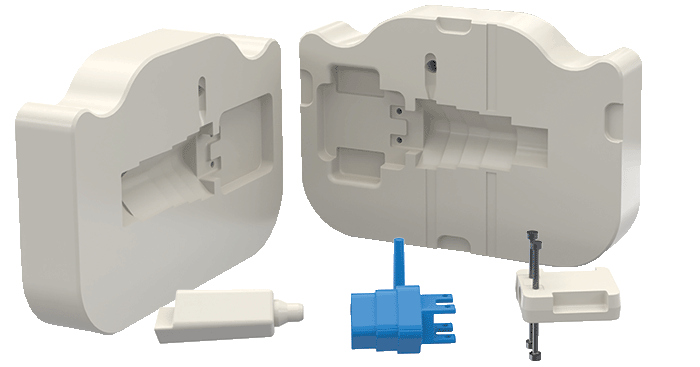 For more information or to request a quote contact DME by clicking the button below.
The Easiest Way to Expand Your Inventory
Today's global manufacturing industries are fast-paced with new product innovation occurring daily. Manufacturers today need partners who they can rely on for cost effective injection molding and prototyping services for these innovations.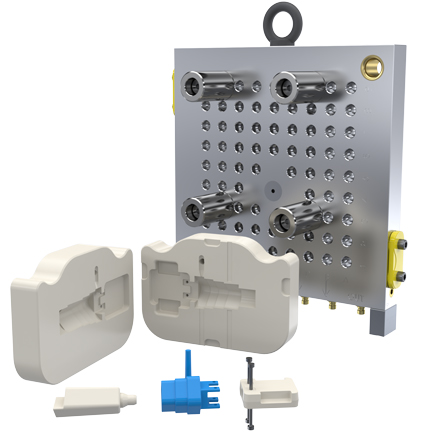 KEY CUSTOMER BENEFITS
Early product validation
Confirmation of product form, fit, function
Validate thermoplastic selection
Cut prototype lead time up to 90%
Prototype cost saving up to 70%
Fits MUD Frame sizes – 08/09,
10/14UF321
Extends time available to design
Price and features represents much greater
value over a 3rd party prototype business
Truly injected end product
Less cost and timing for engineering
changes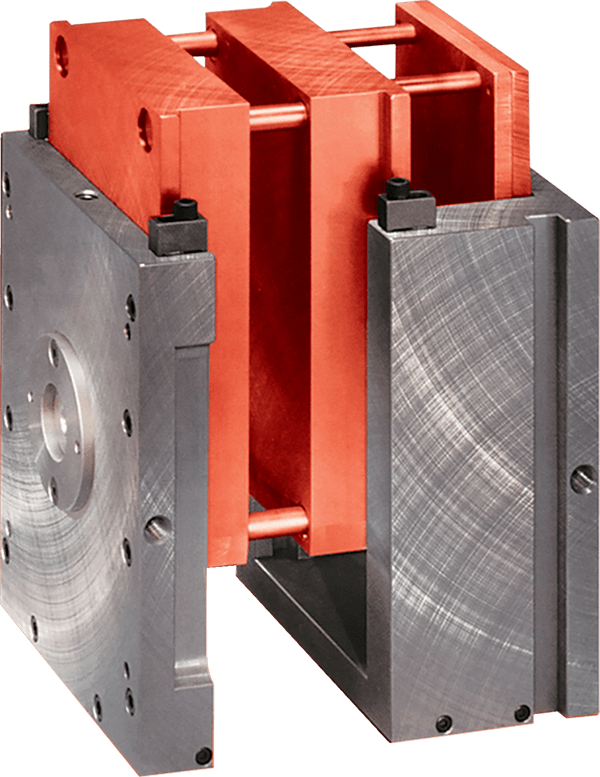 PROTOTYPE ADAPTER FEATURES
12" X 12" jig plates for 08/09 or equiv frame
Or 15"x 12" jig plates for 10/14 or equiv frame
Selectable support pillars lengths
Leader pins/bushings
Sprue bushing
Mold straps
Maximum resin cavity/core size 10" x 13"
Maximum steel cavity/core size 15" x 18"
Multiple resins for cavity/cores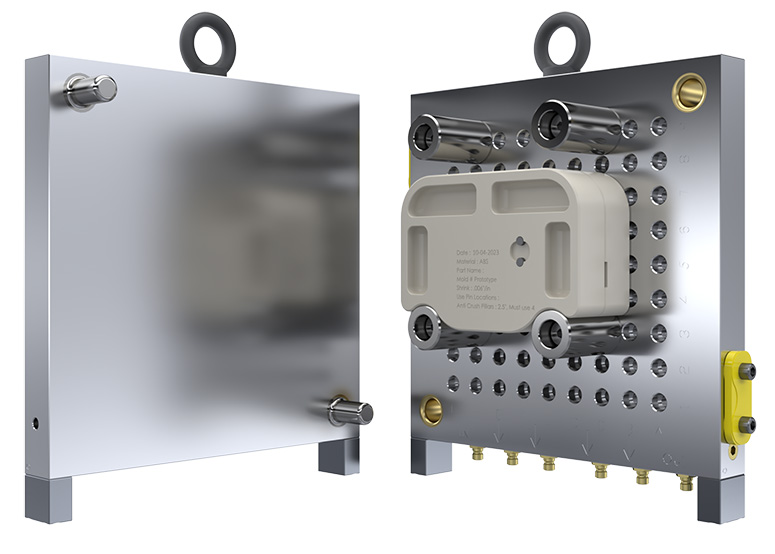 3D Plastic Printing –
Cavity & Core
When using 3D plastic printing techniques for cavity and cores, both tool life and part quality will be dependent on the thermoplastic material used during the injection molding process. As melt temperature, viscosity, and abrasiveness rise; tool life will decline. Size, shape, complexity, tool design and material selection all play a large role in the success of 3D plastic printed molds. DME and its 3D printing partners are not only the pioneers but are experts in applying this technology. Estimated number of parts obtained per tool, based on type of material used shown below.
When dealing with rapid prototyping, sometimes the end product is manufactured through 3D printing of the individual product. One main concern with this is that you don't get the true resin properties of an injected part and often deal with inadequate layer adhesion. This can then lead to unreliable structural integrity and even dimensional inaccuracies when testing directly printed parts. With our rapid prototype system you can provide
actual injected parts for true to life tests in nearly the same time frame as 3D printed individual pieces.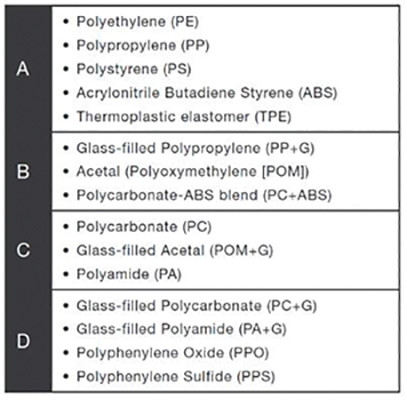 DME® Rapid Prototype Adapter System is the newest add-on to our mud frame family of products. It enables any facility to convert to rapid prototyping in less time and at a fraction of the cost compared to current standard prototyping options.
Many production facilities already have clients that use rapid prototyping for fit, form and function testing prior to production runs. Now you too can have your slice of the pie by getting into prototyping as well.
In many cases, prototype molds can run between $15K and $25K to manufacture and could take upward of 6 weeks to produce (depending on complexity). With DME Rapid Prototype Adapter system, you can be producing truly injected parts, ready for real world testing, in as little as 1.5 weeks and at a fraction of the cost, even as little as $2.5K (after initial adapter plate purchase).