Ordering made as easy as 1-2-3...DME
Online ordering system server and performance upgrades speed search, simplify navigation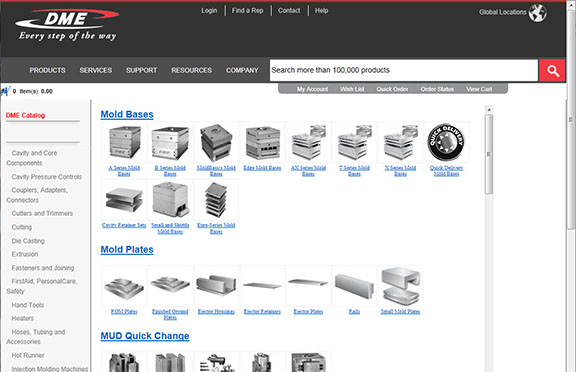 In just a click or two, molders and moldmakers can now get the DME mold technologies they need and quickly get on with their day, thanks to upgrades creating a faster, easier online ordering experience at www.dme.net.
The DME web store now offers:
 Speedier search – Leading edge servers and more detailed product data provide the fastest, most accurate user functionality in the industry
 Smarter navigation – Products grouped in specific popular categories so you can find your components right away
 Free ground freight for order of $50 or more –  For registered DME online customers. How do I become a registered DME online customer?
The system enhancements, which also include faster access to the product catalog, were the result of customer research as well as extensive information technology infrastructure improvements.
"We know that DME customers usually have very specific needs – particular sizes and types of mold bases, ejector pins, interlocks, etc.," said Dave Lawrence, DME president. "All of the latest upgrades to our site are about helping people find what they need ASAP."
Customers can also save time by taking advantage of customized instructions, immediate order confirmation and tracking, frequent items data, stored addresses, and more.
In addition to the industry's most complete range of high-quality mold technologies, DME's web store encompasses the full spectrum of DME Industrial Supplies shop and safety products. Thousands of products available for credit card ordering – with no log-in account required – through the online catalog include:
Standard Mold bases and plates
Master Unit Die quick-change systems
A comprehensive array of pins, sleeves, blades and other mold components
Hot Runner systems and components
Process and Temperature controls
Cutting, polishing and maintenance supplies
First aid, personal care and safety products
Much more
Browse DME's newly enhanced online catalog and order components 24 hours a day by visiting www.dme.net.