Mold Masters Has A New President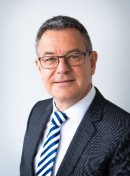 We are pleased to announce the appointment of Hans Hagelstein to the role of President, Mold-Masters Global. He started in this position permanently on November 1, 2023, after serving as interim president over the last month. I am excited to welcome Hans to this role and look forward to his continuing contributions throughout Mold-Masters, and the opportunities that will come as he collaborates with colleagues across Molding Technology Solutions (MTS) in both the Milacron and DME businesses.
Hans is a well-respected leader, and we are fortunate to have his experience at Mold-Masters. This is a transformative time for Mold-Masters, the MTS reporting segment, and for Hillenbrand, and Hans is well-suited to guide us on the next steps in this journey. He will be responsible for executing Mold-Masters' strategic priorities, and he will play a key role in helping contribute to business and segment-level growth.
Prior to his transition into the role of President, Hans was Mold-Masters' President of EMEA and India since 2013. Hans has been with Mold-Masters since 1990, and over his more than 30-year career, served as President of Global Engineering, Managing Director of Europe GmbH, and in a variety of other roles within the company. He notably played a key role in the setup of Mold-Masters India, including Engineering, Shared Services, and Production.
Please join me in congratulating Hans as he takes this next step in his career and provide him the support he needs as we collaborate to Shape What Matters For Tomorrow.