Since the early 1940's the DME catalog has been the de-facto bible for the mould making industry. Today's catalogs and brochures offer the widest selection of products including the latest innovations. Access DME catalogs and product information online or contact us for additional information.
New to the Molding Industry or just want a refresher course – check out DME's Plastics University; in conjunction with Ferris Sate University. It's FREE!
Everything You Need In One Place
75 Years of Mold Industry Knowledge
DME has a robust library of digital media and documents available for review and download for your aid and convenience.
Click a link below to be taken to the data you are looking for.
Technical Guides

Locate user manuals, technical guides, and technical notes for DME products.
Installation Information

See information about installation.
Download CAD files in various application formats from our vast CAD libraries. Click the red button above.
The boomers are retiring. Students are shying away from manufacturing disciplines. Clearly, the plastics industry is facing a major human resources challenge. As an essential resource to our customers, DME is committed to taking action. DME Plastics University® is a broad resource for free online training courses.
DME is proud to partner with Ferris State University to offer this important educational resource. This free online version of DME Plastics University consists of eight educational modules: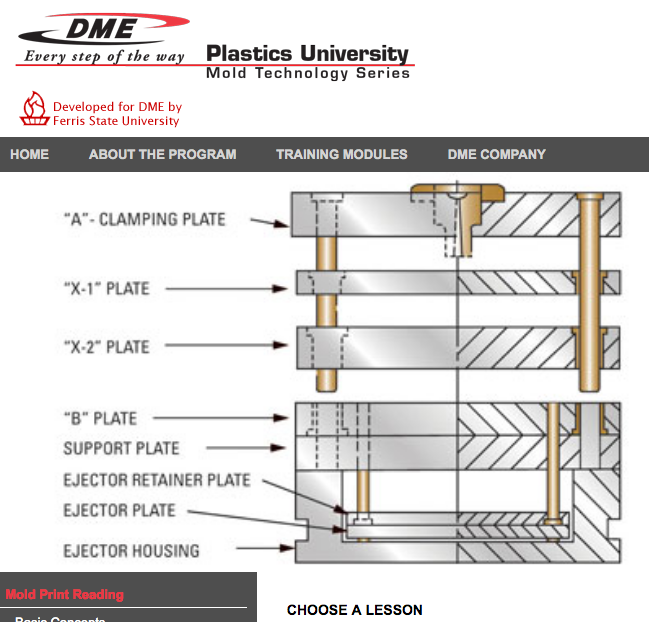 Module 1: Mould Print Reading – provides the foundation necessary to read mould prints in order to communicate with mold designers or mold builders using them.
Module 2: Mould Base Technology – an introduction to the types of moulds used in injection moulding; includes information on the functions of mold plates and mold components in an injection moulding cycle
Module 3: Mould and Cavity Materials – covers the most important aspects of steel selection for mould making; addresses material testing, steel processing and standards
Module 4: Runner and Gate Design – focuses on the techniques of getting melted plastics to the part cavity using runners, gates and vents
Module 5: Mould Finishing and Polishing – an overview of the processes, techniques and equipment used for mold finishing, polishing and texturing
Module 6 – Mould Heating and Cooling – profiles mould cooling and heating techniques commonly used in injection molds
Module 7 – Mold Action – relates the methods, components and systems used to create and control actions within moulds for part ejection and mould plate control
Module 8 – Injection Moulding – summarizes the injection moulding process, including injection moulding machine components, support equipment, process control, thermoplastic materials and the injection moulding cycle
Want to see an example of a product used within a an application scenario? Check out DME's Application Examples or Click Here to ask a DME Support expert via email.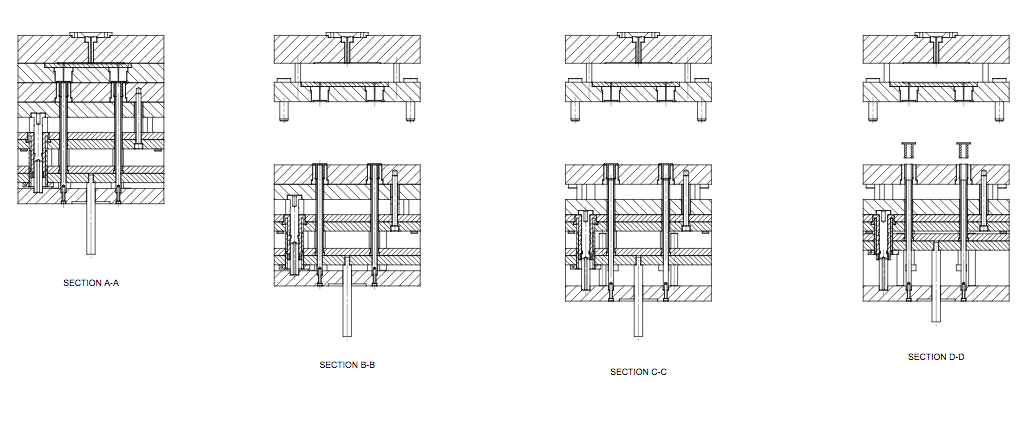 TIRAD - ISO 9001 Certificate
Weltweit: 248.398.6000
Europa: 32.15-.215011
USA: 800.626.6653
Kanada: 800.387.6600
Mexiko: 442-.713.5666
Asien: (86-775) 8601.9031