DME, can help you drive cost out and improve part quality, "Every step of the way".
Integrated Software
Immediate access to DME library integrated into today's software and configurable online.
Consultation
Providing a series of state of the art solutions for todays part and mold design.
Emerging Technologies
DME is constantly expanding its of innovative line of new products and services; helping to take design to the next level.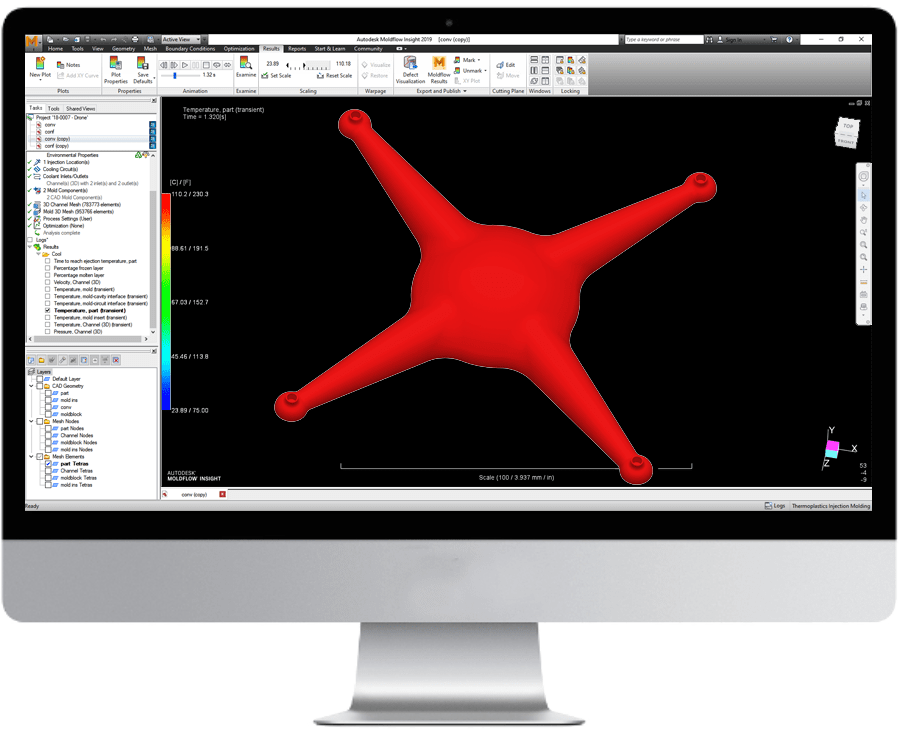 Whether you're a Part Processing Designer or a Mould/Tool Designer, or anything in between, DME can help you maximize your profit by minimizing cost and satisfying all of your customers key requirements. Our highly skilled engineers and designers are at your disposal to refine and perfect a part design, a mould's functionality and ensure optimum performance over the life-cycle of your mould. Using analysis and design services combined with our leading products we can help you achieve the maximum value of your mould and final part.
DME has the experience  and resources part designers need to optimize their design for the moulding process.  Contact DME at the beginning of the process to discuss the different services available to support part designer, such as:
Designing for long tool life performance
Resin types and the implications
Design for optimal gas evacuation during processing
Ways to reduce part cost through optimized cooling
New solutions for traceability
Successful ejection of the part

Undercut solutions
Threading

Ways to improve the part aesthetics
Identify and reduce hidden costs
Minimize down-time for maintenance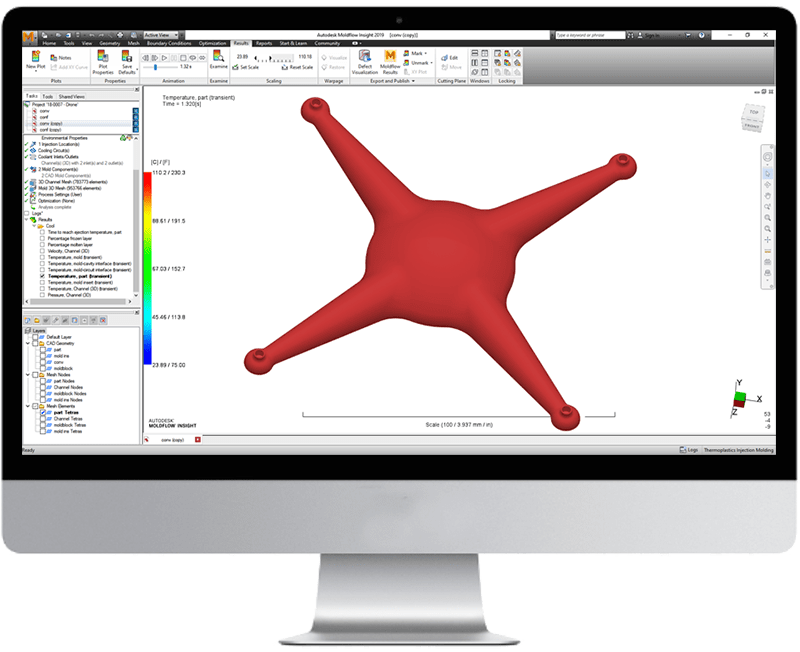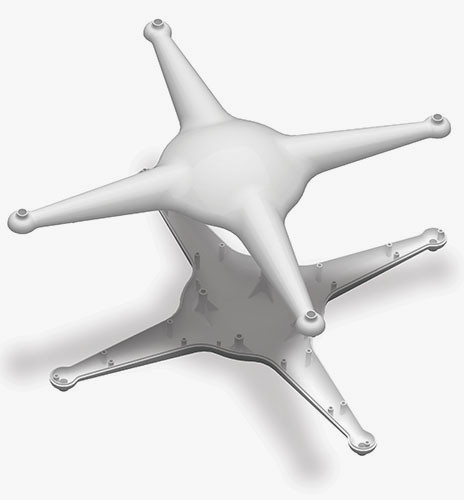 Moulded plastic parts remain one of the key enablers to innovation of both consumer and industrial products. Lighter, stronger, smaller and more appealing products are possible by leveraging the versatility and performance of plastics. DESIGN is critical to every aspect of the plastic part. Through DESIGN products can be differentiated in terms of their form, fit and function to deliver improved performance through the entire application life-cycle. Efficient design lowers total costs allowing for high-speed, high-volume moulding operations due to higher material prices, reduce cycle time, reduced scrap rates, and increase overall productivity and costs to manufacture further improving the total value to the customer.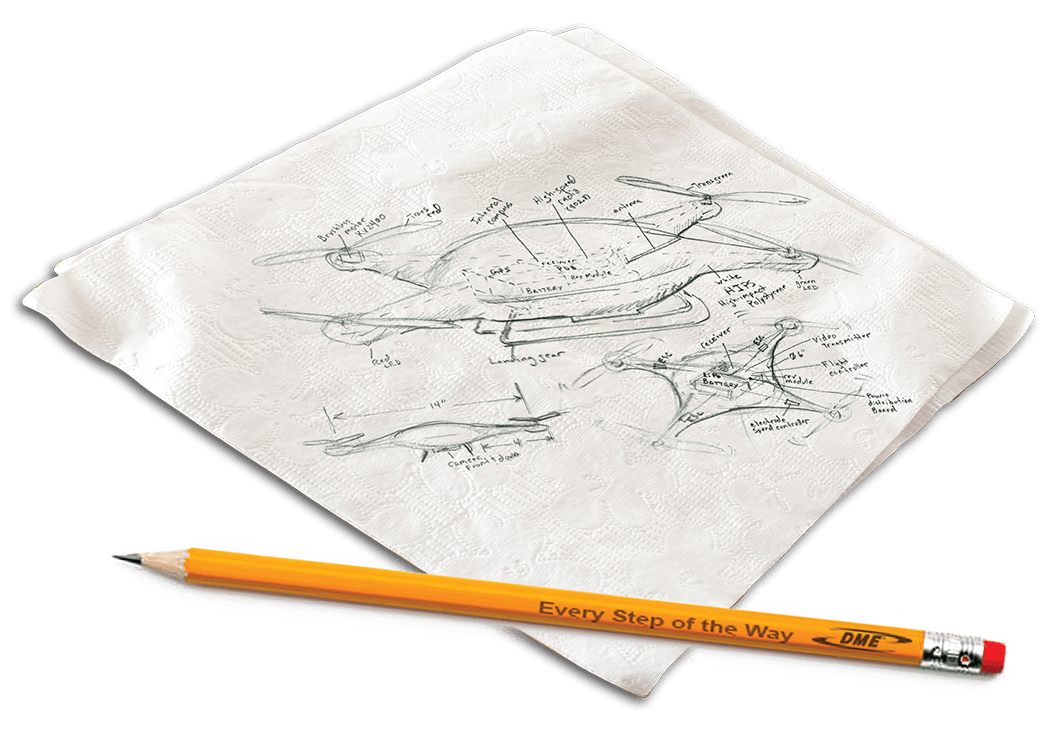 We work alongside you taking a holistic approach that helps ensure all of the project requirements are met wherever in the world they are required. We start by building a detailed understanding of your plastic part design,its intended application in use and the resulting requirements for the tool. Drawing on unrivaled breadth of capabilities we take an integrated approach to meet your needs combining our precise melt delivery systems, engineered and designed components, and mold cooling technologies that ensure part quality and appearance are achieved at the lowest cost possible. Our goal is to deliver the best possible plastic part at the lowest possible cost.
This is the advantage of the DME Integrated Tool Technology Solution.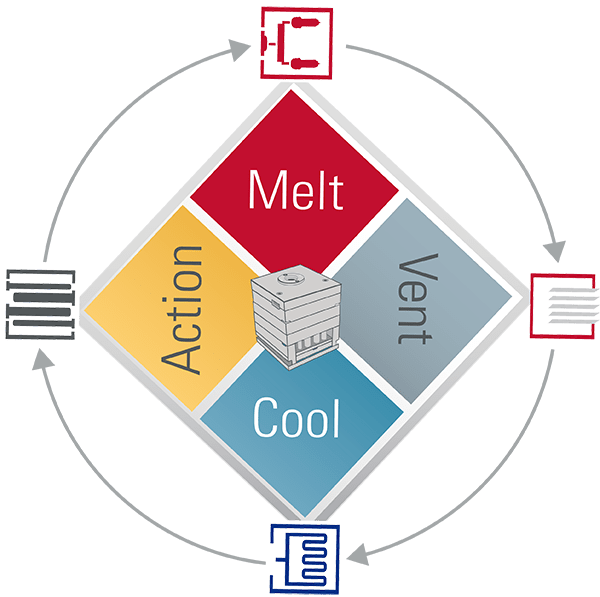 DME has worked hand-in-hand with Mould/Tool Designers for the past seven decades. 
DME's ever expanding library of innovative new products and systems are integrated within today's leading CAD design software. This offers you ease of use and the peace of mind of knowing that you will be using products backed by DME's quality and service.  
On your next project take advantage of DME's online configurator and latest technologies in designing your optimal mould.
Focus on core and cavity to increase margins
Selecting the right steel for the right tool
Benefits of standard over custom mould bases
Overcoming mould size limitations
Optimizing cooling for customer satisfaction
Successful tool finishing
Plate control/alignment for moulding performance
Identify and reduce hidden costs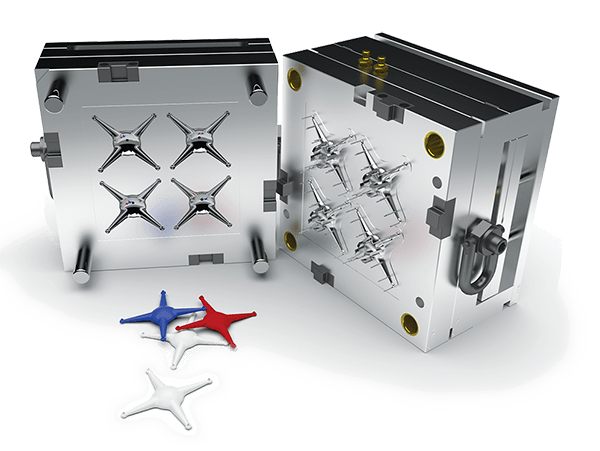 When beginning the journey of product development, mould and moulding limitations have been a hurdle in the past. With DME's technologies and services, you can break free of old restrictions allowing new and revolutionary part design. This is made possible through expert analysis of moulding conditions which maximizes control and flexibility of part design.
The DME Applications Engineering Department is one available resource that can help you produce better parts. DME customers worldwide utilize our applications engineering expertise for mould bases and components, hot runner systems, temperature controls, quick-change moulding systems, MRO products, die sets, die cast tooling, and more. Whether your requirement is a special mold base, a mold action device, a hot runner system or something else, DME Applications Engineering provides solutions that produce optimal results for your specific objective. A keen focus on our customers is a major reason why DME remains the standard-setter in tooling technology against which all others are compared. Contact DME Applications Engineering Services to move forward on your next initiative.
Team consists of real-world shop floor experience
Familiar with multiple CAD systems
We quickly review projects and offer support or suggestions
Web review of projects with your team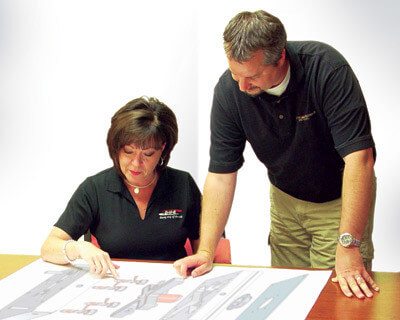 Thermal control plays a large role in a mould's design and operation. DME resources such as Mould Flow Analysis, TruCool Components and Temperature Control Systems allow designers to unleash their full creativity in part design by releasing the mould's full potential. click a link below for more information on DME's thermal management products and services:
Mould Flow Services
TruCool Thermal Management & Components
Temperature Control Systems
Thermal Control System Maintenance
For more information on Thermal Management contact DME's experts by clicking here.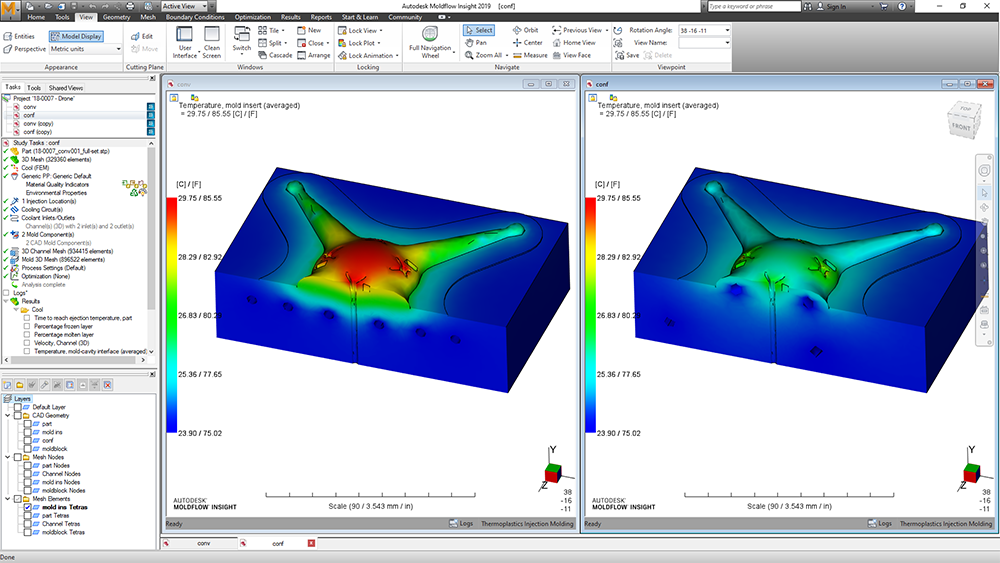 Mould Flow Analysis
Breaking the Mould with Forward Thinking
A mould design is only as good as it's functionality. By implementing DME's analysis services to maximize efficiency of channels and reduce part temperature delta, you can achieve maximum efficiency in your moulds with greater return on investment and longer tool life all while producing superior product and reducing waste.
We understand press operation and capabilities
Autodesk Moldflow® certified staff
Filling, Packing, Cooling, Warpage, Fiber orientation, Part/Mould stress and much more
Reduce cycle time and warpage
Lower scrap and waste
Increase profit margin
Enhance mould performance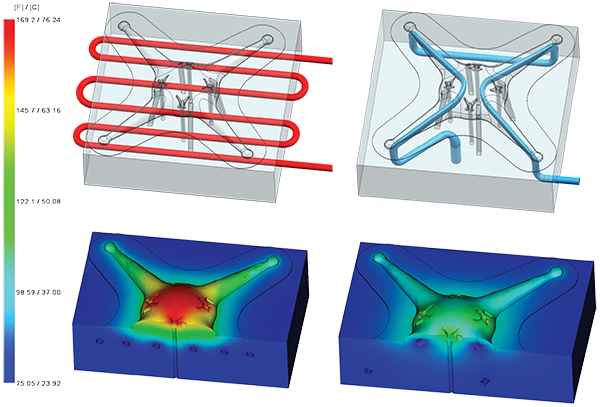 Mould Simulation
Breaking the Mould with Forward Thinking
DME uses Moldflow® by Autodesk® for all simulation. With Autodesk® certified technicians, we can provide accurate predictions of mold operation, pinpoint areas of trouble, provide optimum moulding parameters as well as help to lower mold and moulding cost.
TruCool Thermal Management & Components
A New Generation in Moulding
All the work in engineering the part and mould making of can be lost without proper system balance and maintenance during operation. Let DME analyze the cooling system and provide flow monitoring and regulation to enhance performance. Get live to the minute feed of cooling conditions with our flow monitoring/regulation tools and even notifications of maintenance progress with our CoolingCare unit.
On site support and mould/press evaluation
Channel balancing and monitoring
Enhanced thermal regulation
Mold care and maintenance
Optimize press performance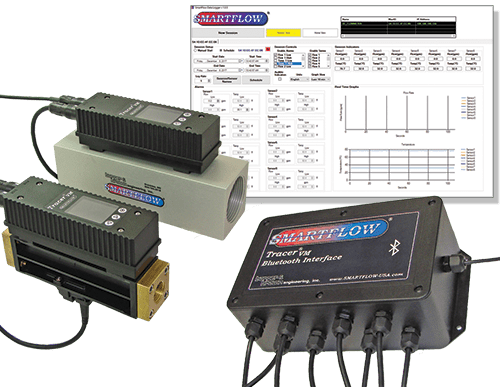 Temperature Control Systems & Maintenance
DME Conformal Cooling & Flow Monitoring Systems
DME can provide maximum tool performance with standard or custom conformal cooled components as well as flow monitoring and regulation systems. Enhance production capabilities and lower overall costs.
CoolingCare – Cooling Line Maintenance
DME's Cooling Care unit will allow moulders to uphold maximum efficiency through simplifying the maintenance process. Reducing PM of cooling systems by up to 50% can save time and money.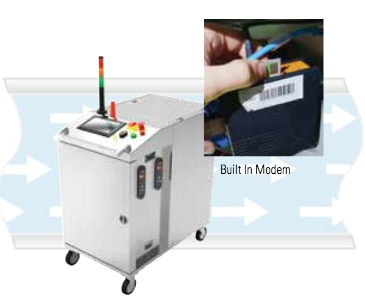 With a 75 year history of innovations in support of the moulding industry, DME is always looking for new products and technologies that will aid their customers in reducing cycle time, increasing output and extending tool life. New products are often tested in the local market and then added to our global portfolio. Exciting areas of expansion within the DME portfolio include:
Rapid Prototyping Systems
Additive Printing Components
Conformal Cooling
Innovative Patented Component Design
Updated user interfaces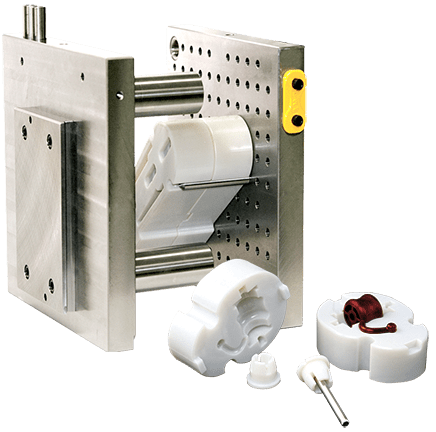 As a Designer your responsible to a finished product that meets or exceeds expectations. Make sure that you request quality DME finishing and measuring products within your specifications so that your end product hits the mark.
Finishing Tools: Pneumatic and electric polishiners, grinding and cutting tools, stones and coatings.
Measuring Devices: Digital Microscopes, ISM-PRO Software, Micrometers, calipers and more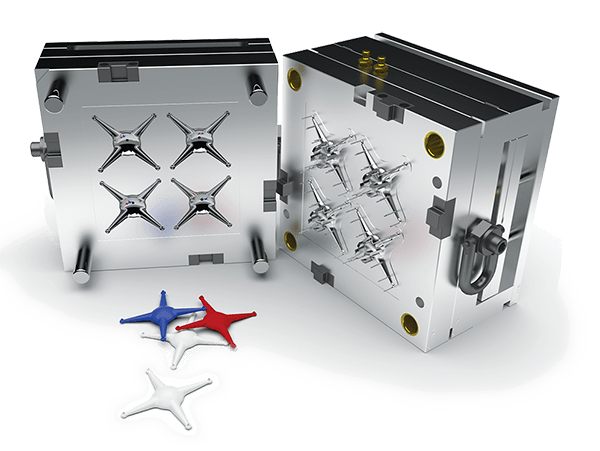 TIRAD - ISO 9001 Certificate
Weltweit: 248.398.6000
Europa: 32.15-.215011
USA: 800.626.6653
Kanada: 800.387.6600
Mexiko: 442-.713.5666
Asien: (86-775) 8601.9031