DME XPress™ Mold Bases
Ships Same Day or Next Day, Precision Interchangeable Plates, Fully Featured
The all new DME XPress mold base sets the standard with over 23,400 combinations ready to ship next day. By starting your project with DME XPress you gain a competitive edge as it provides greater value through improved quality, tighter tolerances, and the fast delivery.
In fact, every steel plate within the DME XPress mold base is interchangeable. If you have a plate emergency, a new fully drilled replacement plate is available and can usually ship the same day. DME XPress is completely engineered, pre-machined and ready to purchase off the shelf. We've taken these steps to add value to your compressed due dates.
The DME XPress mold base truly redefines value for standard mold bases.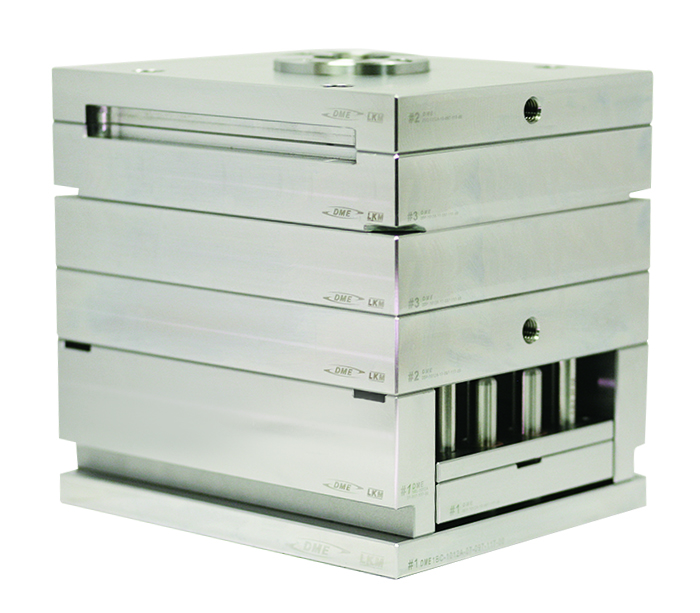 BENEFITS
Same or Next Day Ship
Interchangeable Plates
23 Sizes – 8"x 8" to 19"x 24"
9 – A/B Plate thicknesses – 7/8" to 5 7/8"
Design is fully engineered and validated
Off the shelf
Replacement plates, ship same day
Extends time available to design
Price and features represents much greater value over the purchase of 7 individual RGM plates
FEATURES
7 Plate "A" Series Design
No. 3 Premium P20 for A and B Plates
Stress Relieved and Pre-hardened
Steel Finish Ground ± .001"
Interchangeable Plates
Guided Ejection or without Guided Ejection
Return Pins – Inboard (prevents spring breakout)
Locating Ring
Sprue Bushing
Vented Leader Pins
Type "C" Clamp Slots
Lift Holes (top clamp plate and support plate)
Pry bar slots on parting line and ejector plate
Chamfering on all plate edges
Stop Disks
3-Piece ejector housing with shoulder bolts
Please use the links below for additional product information:
DME XPress Mold Base Configurator - configure your mold base and get pricing